Best moments of the Zurich Film Festival
The best movies and documentaries:
There were many excellent films at the Zurich Film Festival this year. I would like to say that my favorite ones are "The Impossible" (SP) from Juan Antonio Bayona, "Dans la Maison" (FR) from François Ozon, "Arbitrage" (USA) from Nicholas Jarecki, "Am Himmel der Tag" (GER) from Pola Beck, "The Queen of Versailles" (USA) from Lauren Greenfield and "The Waiting Room" (USA) from Peter Nicks.
Tom Tykwer Master Class at the Film Podium:
The German director, Tom Tykwer, mostly known for his films "Run Lola Run", "The Perfume" and "Heaven" was a funny and interesting man to listen to. The 1h30 went by too quickly. He talked about his difficult debuts with humour, sharing how so few people came to see his first film when he had reserved the theater for three weeks and he had to deal with the embarrassment.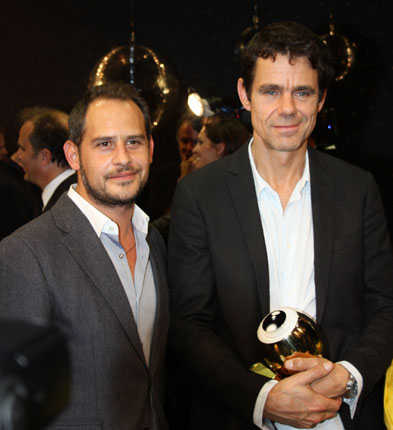 He shared that film festivals can be a good place to learn and positive things can come out of them like the time he went to the Cannes Film Festival and returned with a fantastic contract.
The film business can be hard he said. Before "Run Lola Run" he had two flops and had to count on making one good film to pay for the last two! Sometimes depression can come your way he said and you have to take a break. That's what he did. Luckily for Tom Tykwer he met his wife Marie Steinmann at the right time. The two came to Zurich to present their film "Nairobi Half Life" as producers. Tom proudly said of the film "it is a hammer film" and has been completely sold out in Kenya for the last five weeks.
In November you will be able to watch the newest film of Tom Tykwer "Clouds Atlas" featuring noone less than two Academy Awards Winners Tom Hanks and Halle Berry!
The Helen Hunt Press Conference:
The day she received her Golden Eye Award, actress Helen Hunt came to the famous Baur-au-Lac Hotel to talk about her newest film "The Sessions". She did not travel alone to Zurich but with other actors of the film such as Blake Lindsley, John Hawkes, film director Ben Lewin and producer Stephen Nemeth.
The film is about a handicapped man who is approaching his 40's and would like to loose his virginity. He goes to six therapy sessions hoping it will help him.
If the film is as funny and touching as the people at the conference, there is no doubt the film could be it beautiful and hilarious as actress Blake Lindsley describes it.
Mrs. Jackie Siegl on the green carpet
Jackie Siegl, early forties, the former Ms. Florida (1993), is the wife of billionaire CEO David Siegl, who is known to have made its fortune with Westgate resorts selling holiday timeshares. 
When I met Jackie, she was pausing for photographers on the green carpet at the Sihlcity theater. She had a beautiful black short dress with shoes she had bought in Beverly hills. She shared she loves mixing cheap clothes with designer clothes.
She came to Zurich to present her new documentary "The Queen of Versailles" with the film producer and photographer Lauren Greenfield.
It was not Jackie Siegl's first time in Zurich. She confessed having been for her honeymoon when she married her 30 years older husband, David. She smiled and said she did not see much of Zurich on that trip! Since then she has becomes the mother of seven children.
I saw her again during the award ceremony night wearing a dress from Roberto Cavalli with Versace shoes.
The Siegls live in a 26,000 sq foot home in Florida. As it was not big enough for them, they decided to build the biggest house in America, bigger than the White House. Why? said David Siegl at the beginning of the film. "Because I could". The financial crisis started in 2008 and the Siegls never finished their house which is 90,000 sq feet. Today it is about 50% done and has been on the market for 75 Million dollars. The Siegl family had a dream to live like in the Versailles Palace and still hopes to keep and finish their new home.
David Siegl said once " if you can't be rich, the next best thing is to feel rich!"
Moments with the Richard Gere, Susan Sarandon and Nicholas Jarecki:
At the press conference on the day of Richard Gere's award ceremony, actors Richard Gere and Susan Sarandon came to Hotel Baur-au-Lac with film director Nicholas Jarecki to talk about "Arbitrage".
The room was packed with journalists and photographers. When he entered the room, Richard Gere smiled and while taking in his arm his long time-friend and co-star actress, Susan Sarandon, he said "Is that the picture you want?"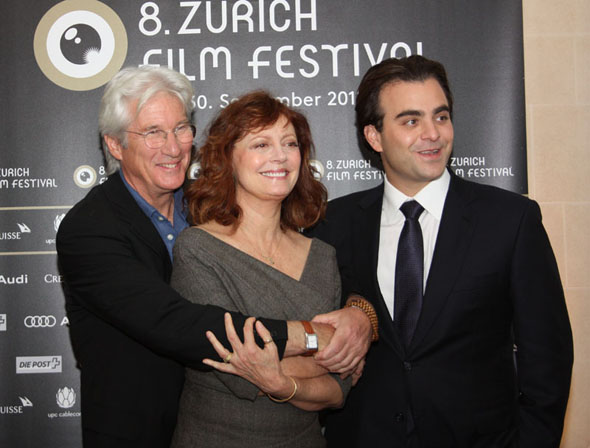 Quickly one could only feel so much complicity, respect and affection between the two of them.
Both actors said how much they like Zurich and the Zurich Film Festival. Richard even said he did not have the feeling it was a small festival and Susan made the remark that the quality of films here was very high.
I was curious if it had been difficult for the two actors to have worked with first time director, Nicholas Jarecki. Sarandon responded that it was not. She explained that about 60% of her films were with first time directors and she thought the second film was sometimes harder to make for directors. She said Nicholas "had done his homework, so why not. He was very passionate and gave them credits for things they did to help. Jarecki added that Gere and Sarandon made him feel very comfortable on the set. He joked and explained a funny situation when he had tried for a week to come up with a verse for Susan and during rehearsal it took her 2 seconds!
No doubt, looking at the three of them together they could have only made a great team and a great film!
Listening to Oliver Stone:
Film Director Oliver Stone came to the Zurich Film Festival for the third time this year. He was here to talk about his new film "Savages" accompanied by actor John Travolta, who received a Golden Eye Award. Mr. Stone shared in a relaxed manner his opinions about serious topics such as war, drugs and politics and his support to President Barack Obama.
All the sweets and drinks at Bellevue:
Thanks to the festival sponsor, Die Post, and Lindt & Sprüngli the festiva'sl tent at Bellevue always had delicious chocolates. With Mövenpick, Globus and other cafés closeby it was easy to go for a drink, a bite to eat or an ice cream quickly between movies.
Tagged Arbitrage, David Siegl, documentary, Film, Helen Hunt, John Travolta, Mrs Siegl, Oliver Stone, President Barack Obama, Richard Gere, Savages, Susan Sarandon, The Queen of Versailles, Tom Tykwer, Westage Resorts, ZFF, Zurich