Clouds: the place to be in Zurich
Clouds in the new Prime Tower is just over two months old but without a doubt the most demanded place to eat in Zurich.
But why?
I met with the two head-chefs and key players, Antonio Colaianni and David Martínez Salvany, to find out how it all started and to get an impression of the new hottest place in town.
Antonio arrived with a plate of small sweets, which looked delicious.
That day there were no clouds to be spotted; it was a clear blue sky, with beautiful views of the Lake of Zurich and far away the scenery of the Swiss Alps. But some days if you are lucky or unlucky depending what you hoping for, you can eat above the clouds.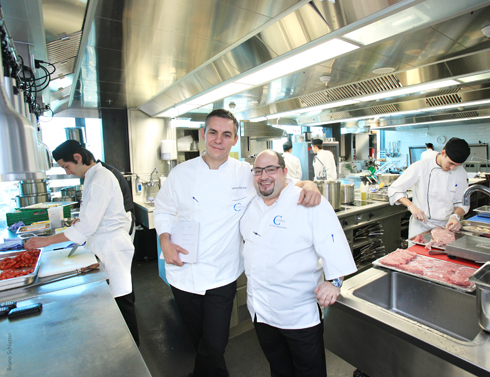 Will Clouds become the place to be? General Manager, Joos Magnasch of Clouds certainly hopes so when he talked about his vision for the restaurant at the Media Conference in December, one week before the official opening.
Clouds has the perfect combination for success: amazing views, renowned chefs and delicious food.
But no one will argue that Clouds is an ambitious project.
1243 sq meters, on the 35th floor at 126 meters, 115 workers – 35 on the cooking team (2 head-chefs, 3 sous-chefs and 2 junior sous-chefs), a kitchen on 2 floors with 2 lifts, 80 seats in fine dining, up to 250 seats with the lounge, bistro and patio and over 200 wines to choose from: here are numbers that will make your head spin!
Time will only tell if the founders of Clouds, Peter Herzog and Jürg Landert, made the right decision. But for the moment, it is booked for months to come, especially from Thursday through Sunday. Brunches are also extremely popular and need to be reserved at least 4 to 6 weeks in advance. Business lunches are well in demand. If you are flexible and don't mind siting for a while in the lounge for a glass of wine or a cocktail, you may be able to move later in the fine dining for a gourmet dinner. And there is always the Bistro-Bar for a quick lunch or coffee with sweets.
Book early. If by any chance a few seats may be available in the morning, it won't be for lunch or dinner.
This makes Antonio's work easier. When it is time for him to order the meat, he knows exactly how much to order, as it is always full!, he explains.
"Everyone wants to come here, not only because it is good food but because it is the highest restaurant in Switzerland", says David. He continues, "everyday is a challenge".
Challenge is something Antonio was looking for when he joined the team. Having been his own chef at "Il Casale" for eight years, he explains how difficult it was to make the decision. Should I stay another 10 years? But as it was more or less a routine with almost always the same problems, the chef decided it was time for new challenges.
And then came a proposal to be the head-chef at Clouds. However, did he want to face the challenges alone?
No. When he heard from Jürg Landert about the opening of a brand new restaurant at the Prime Tower, he mentioned it to his long time friend, David.
"Come on David", said Antonio.
"Are you joking?", replied David.
What started as a small joke, became quickly a reality. First Antonio had to motivate David and then the two had to convince the founders of Clouds with a new proposal. It was more challenging to change Peter Herzog's mind, who at first wanted to hire one head-chef and not two.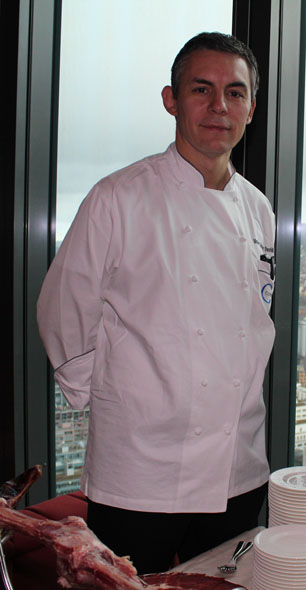 Convincing David to work with Antonio, was the easy part. They have known each other for almost twenty years, having met in London in 1994. At that time they were working in the restaurant "Le Gavroche", a good learning experience, says Antonio. They met again in  1995 and worked for some time in the restaurant "Wiesental".
For Antonio it was clear, with David he would agree to do it because as he says, "it is so important to have someone you can trust 100 %".
David had left "Greulich" in July 2010 and was trying to start a new project of his own, but he knew one thing, "A chance like this only comes once". The proposal came at the right time and he had to take it. Although he thought that another good opportunity could come along later, he says one exactly like this working with Antonio as head-chef, would only come once.
The two signed their contracts in January 2011 almost a year before Clouds officially opened on December 12th, 2011.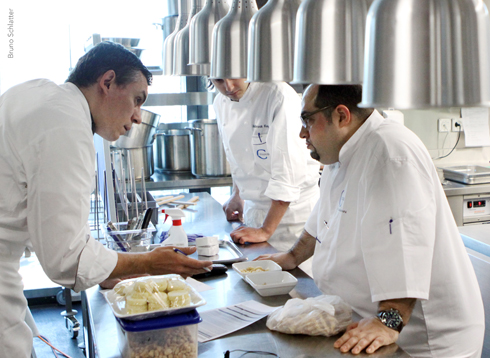 Are Antonio and David happy to be back together? Smiling and looking at each other as if they always know what the other one is thinking, no doubt yes.
Have the last two months since the opening or more precisely since the two started on November 20th been easy? No, it has been challenging and stressful enough with about 5 days off. But they knew it when they accepted the position. You have to be able to always work, says David.
The two know it will soon get better and they have to be flexible. Right now making this project work is important even if they have to put aside their private life for a while. Their hobbies are on hold until the Summer vacation when the restaurant Clouds will be closed from July 22d to August 5th (the Bistro-Bar and the Lounge will remain open). The chefs have a common passion, football. When I asked who will they support during this summer European Cup, they replied together "We know; we both know" while looking at each other smiling. I continued, Who will win? They know, the finale will be Italy-Spain, of course!
Antonio Colaianni's family is originally from Italy and David Martínez Salvany's from Spain near Barcelona. David remembers the amazing rabbit with aubergines his grand-mother used to prepare. He says he could never do it as well. Antonio's mother was a good cook but often working outside of the home. Another lady took care of him and she once told him to become a cook to always have something to eat.
Antonio's family wished a long time ago that he would have done something different with his life and maybe become an engineer. Today he says his family is very proud of his decision and what he is doing. Antonio accentuates on the word "very".
Since the age of twenty-four, he has been a head-chef. When asked what chef inspired him over the years, he responds quickly Roberto Galizzi from the restaurant "Al Portone" in Lugano, for his vision of cooking.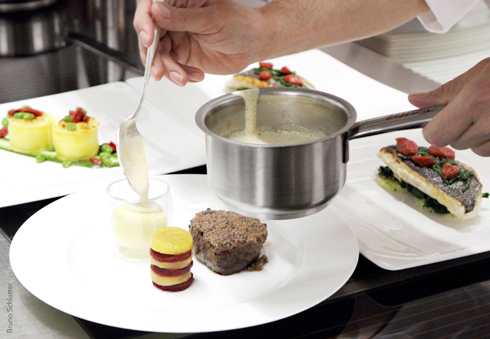 Catalan and Italian dishes are not the only things you will find on the Clouds' menu. It is mainly recipes they love cooking. The basic techniques are always French. Olive oil is something they use a lot. Bio products are used but not only. "What matters the most is the quality", says David. He continues talking about the origin of the food served at Clouds. "It has to come from the best place even if it is not Switzerland".
The menu in the Fine Dining has been changed twice and the chefs agree it will probably change again in the middle of March when the new season starts. There will be changes about 4 to 5 times yearly.
How does it feel to be working in the highest building and at the highest restaurant in Switzerland? "It is a special feeling", replies Antonio. He talks about the pressure as everyone wants to come. Organisation skills are important to succeed. He also notes that it can be complicated sometimes with the lifts.
Antonio and David not only cook and supervise other cooks but they have to take care of the logistics, the planning, ordering the food and taking care of recycling. While Antonio is downstairs in the main 430 sq meter kitchen, David is upstairs in the finishing kitchen taking care of the sauce, garniture and finishing touch. Both work with headsets to better communicate. When Antonio and his team are done, David and his team have about 3-4 minutes to finish a plate. David explains that in a normal restaurant you would have much more time to prepare a plate, something like 6 minutes.
Imagine how many workers must push the dishes on trolleys all day long, how many times a day the lifts are going up and down and how many dishes go through the serving hatch!
Clouds also offers private dining, apéros and conference space, where you can do business and order buffet food, sandwiches or break specialities.
Are you ready to make a reservation yet and go try out a bouillabaise, a beef tartar, a pork filet with Lomito sausages or a caramelized apple strudel topped with muscovado-calvados ice-cream?
I am!
Everyone will surely find something they like. The chefs want to offer a wide variety of meat, fish and vegetarian dishes to please everyone's taste.
Prices for business lunches go from 12 CHF for appetizers to 38 CHF for main courses. For the evening appetizers start around 24 CHF and main courses from  48 CHF. Clouds has an amazing wine list with bottles prices from 50- 750 CHF or per glass from 8- 17 CHF .
If you are an early riser, the Bistro-Bar opens at 7:30 a.m, brunches are served on Sundays from 1o:00 a.m and for those who like to stay up late, the lounge remains open until 2:30 a.m.!
No matter what motivates people to come to Clouds in the first place, something sure is that Antonio and David have a common wish. They want them to return home remembering that the food was as good as the view!
And what about Antonio Colaianni and David Martínez Salvany's main goals for 2012? They are "simple": constant quality and happy guests!
Where is it located?: The Prime Tower, Maagplatz 5 in Zurich West, 1 S-Bahn station from the Zurich main train station.   For reservation and information click
here
.   About the head-chefs: Antonio is 42 years old and received 1 Michelin Star in the restaurant of Rapperswil castle and 16 GaultMillau Pts at "Il Casale". David is 40 and also received 16 GaultMillau Points at "Greulich".    
Thank you so much to Anna Portmann, working at Clouds in Marketing, Sales & PR for scheduling the interview and her precious information.
Tagged Antonio Colaianni, Business, Catalan, Clouds, David Martínez Salvany, Food, Gaultmillau, Greulich, Head-Chef, Il Casale, Italian, Joos Magnasch, Jürg Landert, Lounge, Official opening, Peter Herzog, Prime Tower, wine, Zurich West