Discover le Domaine de Marie Antoinette
Originally published in Destination France, Issue 19, March 2007
Véronique Gray finds magic in the Domaine de Marie Antoinette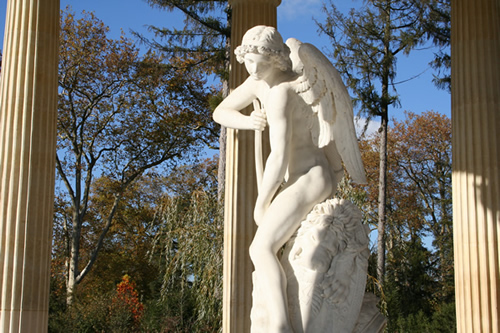 If you have always wanted to visit the estate but never took the time, don't wait any longer. After four years of renovations, it is again possible to wander through the 86 acre since July 2006.
Seduced after my first visit, I revisited the place this fall and loved it even more than the first time, maybe because it had just been renovated!
But what was exactly done? Many trees were replanted due to the 1999 major storm damage. Unfortunately, the queen's famous 324-year old oak fell down two years ago, after having suffered from the 2003 heat weave. Don't miss part of it near the Petit Trianon; it is quite impressive.
The English gardens, the theatre and the grotto were also restored. But for me the best of all was the Love temple, a classical oval shape building with amazing dome sculptures, 12 Corinthian columns and a statue in the middle. One year of work was necessary to restore the temple its original splendor. Located on a small island it was the busiest with the hamlet.
The hamlet (or hameau), composed of 12 houses, is a popular place. It is hardly possible to make photos without anyone in front unless you have a lot of patience. Many movies have been filmed there such as the 2006 Marie Antoinette by Sofia Coppola. While strolling along the lake, I daydreamt of what the queen's daily walks could have been near her mill, farm and vineyards, far away from her stressful court life at Versailles. There, she was dressed as a farmer and fed her animals.
The day I came I had left early to beat the crowd and did a loop starting from the formal gardens of Versailles, making it to the Domaine by lunchtime. I rested on a bench for lunch and entered it via the Petit Trianon. I must have walked four hours in the estate. If you are looking for is a quiet time in gardens, go to the estate. There is also a small train or you can rent a bike. Otherwise, take some good shoes.
FIND OUT MORE
TOURIST OFFICE
2 bis, avenue de Paris78000 Versailles
T: (0033) (0)1 39 24 88 88 
DOMAINE DE MARIE ANTOINETTE
Opened daily from 8 a.m. till sunset.
Entrance fee: 9 euros (£6) during the high season (April-Oct) and 5 euros (£3) during the low season (Nov-March). Free under 18s.
The gardens are always free unless there are water spectacles
T: (0033) (0)1 30 83 78 00
TRAIN
Take the Eurostar to Paris and then the RER ligne C.
T: 08705 186 186
AIR
All major airlines fly to Paris
ROAD
Take the A13 direction Rouen, exit Versailles-Château
From Calais, take the A26 in direction of Paris, then before Arras take A1, exit direction Rouen/ Take the A13 exit Château de Versailles
Tagged Domaine de Marie Antoinette, France, French history, Love Temple, Petit Trianon, sculpture, Versailles