Discover Le Grand Bornand
Originally published in Destination France, April/May 2006
Véronique Gray discovers the magical village of Le Grand Bornand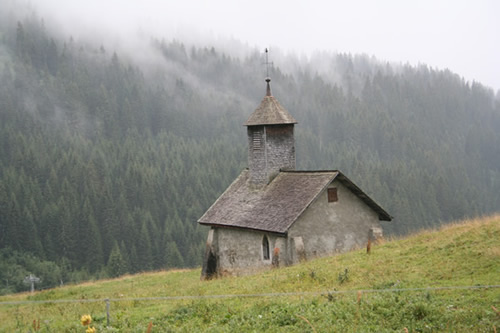 When my husband suggested we drive to Le Grand Bornand this summer, he did not have to ask me twice. I was so happy about it, but why? Was it because I had spent unforgettable vacations there as a child, to see the gîte we had once rented together or more because I was excited about buying cheese directly from the farmers?
Located in the Haute Savoy, the village is easily reachable by car from Geneva or from Annecy. Le Grand Bornand has not changed much over the years. The many activities the village has to offer make it a paradise destination for adults and children. If you are an outdoor person, this is the place for you. It does not matter if you are looking for a relaxing day at the swimming pool, for a way to stay in shape at the tennis court, for a quiet day walking in the alpine fields or for more challenging activities such as paragliding or canyoning, Le Grand Bornand has everything. I recommend walking in the Bouchet Valley just at the end of the village going north. Driving to the top is possible. Stop at the farm "La Cheminée" for a slice of blackberry tart and to enjoy the view of the highest peak, the Pointe Percée. Walkers can climb to the col des Annes at 1721m. May is the perfect time to visit as the temperature is ideal for walks.        
Cows are everywhere in and around Le Grand Bornand and produce since the 13th century the world known cheese, the Reblochon. For those, who don't yet know it, it is recognizable for its large yellow cylinder shape and its soft appearance. The secret is to milk the cows one time in the morning but not completely and a second time in the evening. The cheese maturates up to 4 weeks in caves. Stop at any farm with the sign Vente de fromages to buy your Reblochon fermier. It is much cheaper than in the village. If you can't make it, I highly recommend the Wednesday market, as it is the perfect place to buy regional specialities such as Vin de Savoie, honey and dry sausages. One last place to find good Reblochon and to get advice is in the village's supermarkets.
FIND OUT MORE
TOURIST OFFICE
Place de l' église
74450 Le Grand-Bornand
Telephone 0033 (0)4 50 02 78 00
Fax        0033 (0)4 50 02 78 01
www.tourisme.fr/office-de-tourisme/le-grand-bornand.htm
Email: infos@legrandbornand.com
MARKET
On Wednesday morning
Reblochon cheese, dry sausages and other regional specialities- next to the church
ROAD
From Annecy A41-Thônes/Station Les Aravis
From Lyon A43- A41- Thônes/Station Les Aravis
From Geneva Airport A40-Bonneville/ Station Les Aravis
TRAIN
www.sncf.com
www.raileurope.co.uk or call 08705 848 848
Take a train to Annecy and then take the shuttle (18 miles)
Call 0033 (0)4 50 45 08 12 or 0033 (0)4 50 02 20 58
AIR
Air France or British Airways to Annecy, Geneva or Lyon.
www.airfrance.com/uk  Telephone 0870 142 4343
www.ba.com               Telephone 0870 850 9850
Tagged Aravis mountains, cheese, France, Haute Savoie, Le Grand Bornand, mountain resort, Reblochon