John Travolta and Oliver Stone, guests of honor at the ZFF
Last night at the opening ceremony of the 8th Zurich Film Festival Nadja Schildknecht, Karl Spoerri, Mayor Corine Mauch and politician Johann Schneider-Ammann warmly welcomed two Hollywood super stars, actor John Travolta and director Oliver Stone.
Nadja Schildknecht thanked with great emotions Oliver Stone for his third visit to the Zurich Film Festival. His presence helped the festival move forward she said. Without him it would not have been so quickly what it is today. It is one of the reasons that more and more actors and directors agree to come to Zurich. Oliver Stone seemed comfortable on the podium, smiling, happy to be back in Zurich where "the babes are hot" he jokingly said while looking at the evening moderator, Tanja Gutmann.
In the afternoon at the media conference he talked about his new movie "Savages", war, drugs and openly shared his political views on the next American election. "I am certainly going to vote for Obama", he said insisting that he is the only "intelligent leader" to lead and help America.
As for John Travolta he preferred remaining more discreet on the subject but rather liked discussing his role on his new movie featuring actors such as Benicio del Toro, Salma Hayek, Taylor Kitsch, Blake Lively and Aaron Taylor-Johnson.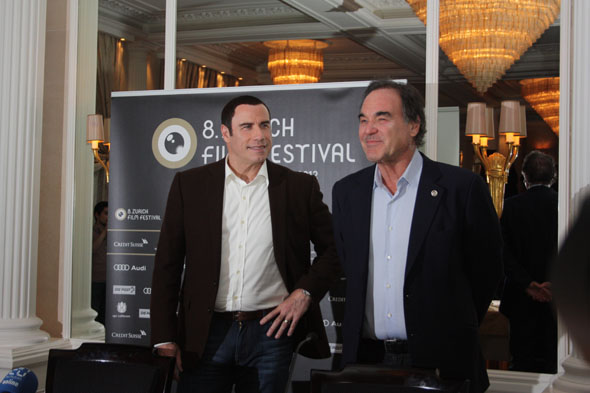 It was the first time in their long movie careers that the two men worked together. Travolta praised Oliver Stone for his responsible work on the set and energy he put in his work. Stone said Travolta brought "uplifting light and spirit on the set".
John Travolta received a lifetime achievement award at the opening ceremony in front of an enthusiastic VIP crowd full of bankers, politicians, people from the art and entertainments and even Princess Inaara Aga Khan and her daughter.
Known lately for movies such as Pulp Fiction, Face Off and Primary Colors, Travolta is most of all remembered for his outstanding performance in Saturday Night Fever and Grease. But he did not only play the bad guys, he was also in comedies and even in one western, he explained proudly.
After a short retrospective on his career achievement, quite appreciated by the watching crowd, Karl Spoerri welcomed him on the stage. Travolta, relaxed, even tried a little German before taking the Golden Eye in his hands.
But what does this prize mean to you Mr. Travolta? asked someone during the afternoon conference?
"I am very proud of being awarded this kind of thing. It is always an honor. It has been a good life…. I don't believe in regrets", he answered.
Does anyone regret that John Travolta has become an actor? From looking at the massive number of journalists, photographers and fans waiting to have a glimpse of the star on the green carpet, surely not!
With no doubt John Travolta and Oliver Stone will surprise us again with more memorable movies in the years to come…
Tagged actor, Corinne Mauch, director, Festival, Golden Eye, Inaara Aga Khan, Johann Schneider-Ammann, John Travolta, Oliver Stone, ZFF, Zurich