Ladurée: much more than a macaron
Could Ladurée's success be a combination of the most delicious macarons with the cutest boxes?
When you think of Ladurée, the first thing that may come to mind is MACARON, but if you are a connoisseur of their products you know that there is much more to it, than just THAT.
So, what could have made the popularity over the years of the French's best known pastry shops and double-decker macaron maker? The macaron of course, but what about the boxes? For Ladurée the joy of giving and receiving is as important as the macaron itself. For that reason when you enter any of their shops, you will see boxes everywhere, but not just a box.
High class boxes of all sizes and shapes (long, oval, round, rectangle) decorate the shops. You can find some for every occasion but also some seasonal types, designer boxes and at least one limited edition. They are wrapped with love with beautiful ribbons. Ladurée has had the Swiss box, Alice in Wonderland and the Teddy box. The prestige, crystal boxes and "Réglettes Napoléon" are always available.
For its 150th anniversary you can buy different boxes every month, all unique and with names such as "Love", "Julie & Louise" and the "Lanvin", created by Alber Elbaz, Moroccan chef fashion designer for Lanvin Haute-Couture. At the moment Ladurée is offering boxes called "Seventies", available until they are sold out. At the end of November a sensational Christmas edition will come in the shops.It is called "Les Indiennes"  with cashmere and black, green and gold colors.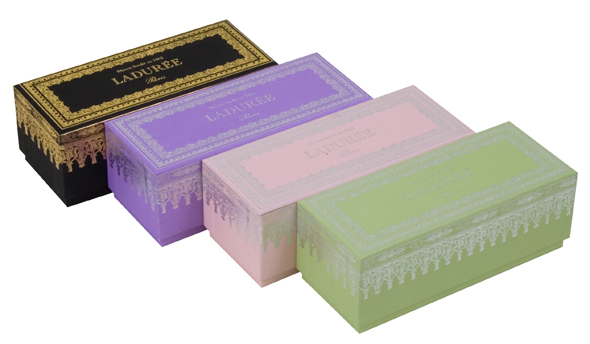 The boxes are not only used to put in the delicious macarons, but also the teas, jams, honeys and scented candles. For its anniversary Ladurèe came out with a unique candle "The Chantilly". In addition to Darjeeling and earl grey teas, they have a selection of eight teas, perfect for the morning, afternoon or all day. Each tea has its own color box and carries names like "1001 Nights", "Roi Soleil" or "Marie Antoinette", very French!
Now, what about the macarons? What make them for instance different than the Sprüngli Luxemburglis? Janine Bosshardt working in PR for Ladurée explains that Ladurée's macarons are bigger and more filling. While you may need three to be full with Ladurée's, you may be able to eat 10 Luxemburglis. The Luxemburglis are made with a butter cream filled in with different flavors and the Ladurée's are each made with a special filling. The raspberry is made with some jam, for example.
Louis Ladurée opened his first shop 150 years ago in Paris on the Rue Royale. The double-decker macaron creation came later with his cousin, Pierre Desfontaines, in 1930. In Paris, some say that about 15,000 of macarons are sold daily. The recipe is the same everywhere you go.
Mrs. Bosshardt, who has visited the production site in Morangis, shares that the man mixing the dough is a pro. The workers making the double-deckers know what they are doing!
In Switzerland a brand new factory opened in June this year in Enney near Gruyère. The macarons there are sent to all cities in the world such as Dubai, New York, London and to of course Zurich, to the shop I recently visited. Ladurée is well represented across the world with shops in sixteen countries from Australia, Morocco, Lebanon and even Saudi Arabia.
One exception is that the macarons sold in France are made in Paris, France.
The macarons are delivered by trucks to the Kuttelgasse 17 when the stock gets low. They get there in small packages and during the trip a certain temperature and level of humidity has to be respected. They don't arrive frozen, but it is similar. Once they are in the shop, they are kept in a cool place. When purchased they can be eaten up to 4 days if kept at the bottom of the fridge.
Knowing how good the Ladurée's macarons are, you probably will finish them in a day!
In the Zurich shop, you can find some standard flavors during the year. These are: pistachio, raspberry, rose, violet, dark chocolate, milk chocolate, vanilla, orange blossom and of course caramel fleur de sel! The most sold flavors are vanilla, chocolate and caramel fleur de sel. It all depends on the season: in the winter more people buy caramel fleur de sel because it is heavy and in the summer the fruity types are more popular. During the busy time of the year with more tourists, it influences the sales. More people buy double-decker macarons for Christmas, in the winter in general and for mother's day.
There are also seasonal flavors like lily of the valley in May, chestnut cream in the fall, now orange ginger and lemon- basil and in December chocolate with anise, clementine and cinnamon! Who could resist!
At the moment they have an amazing creation called "bubble gum" perfect for children or to remind adults of their sweet childhood: a pink macaron topped with sugar and inside a marshmallow tasting like a strawberry bonbon!  You can buy Rose Calin, Rose Doudou and Rose Baiser. Just the sound of their names make me dreamy, ready to bit into one, or better three of them.
As the macarons are extremely delicate to ship and as the company would like to keep a high image with a classy presentation, they are only sold in Ladurée's shops.
Ladurée in Zurich also sells a few chocolates as well ice creams and sorbets (not all year) all served with a macaron on top. In the shop windows, you can admire tall pyramids topped with macarons, an idea for parties in your home or business. Most people chose one color macaron, explains Janine Bosshardt, to match the color of their living room or  their furniture. The pyramids need to be ordered in advance.
Since 1993 the Holder group owns Ladurée, which has 47 shop worldwide. In Switzerland in addition to the Zurich shop which opened three years ago in October, Ladurée has six locations in the French speaking part (four in Geneva, one in Lausanne and since recently one in Crans Montana).
No matter if you are in Zurich, in Paris in one of the Ladurée's many salons de thé or anywhere in the world, if you are near a Ladurée, let yourself be tempted by those unforgettable double-decker macarons and their beautiful boxes! What about "Les Indiennes" for Christmas?
Tagged 150 anniversary, boxes, double-decker macaron, Groupe Holder, Janine Bosshardt, Ladurée, Les Indiennes, Louis Ladurée, Luxemburglis, macaron, Pierre Desfontaines, Rue Royale, Sprüngli, Sweets, Zurich