Vive le Salon du Chocolat
What an amazing first Salon du Chocolat in Zurich!
So many journalists, photographers and guests came to admire the Défilé du chocolat in Zurich Oerlikon on Thursday night. The forty minutes went by quickly for all chocolate lovers.
Great applause for Jean Claude Jeanson & Mister Crochet for their chocolate dress, which had already been worn at the New York and Shanghai's shows. I talked to Mr Jeanson afterward. He was busy taking care of his amazing dress, which took 2oo hours of work to complete. Four people are needed to dress the model with it. It is not only beautiful but original. The creator made a little trap in the back, so he could put a few pigeons inside. He explained how fragile the trap is and showed me how it works.
Confiserie Sprüngli with a hairdresser from Valentino Coiffure finished the last touches of their model on stage. The model's long legs were covered with white chocolate tattoos. During the Défilé, a Maitre Chocolatier at the Sprüngli's stand was finishing his enormous and beautifully decorated Easter chocolate egg.
People strolled from one stand to the other, tasting chocolates, macaroons and drinking Champagne. The Maitres Chocolatiers came from Belgium, Switzerland and France. Some have been in the chocolate business for a long time and some are just beginning.
Some were really creative (La Cuillère Suisse & Just Chocolate), others had colorful products (Thomas Müller, Voland & Les Gourmandises de Miyuko) while others had attractive boxes (Boissier). Everyone was somehow transported to the stand of La Gazelle d'Or as it was lifting a captivating smell of orange blossom. The stand, specializing in selling Moroccan delicacies, came from Paris. The salesman showed me the favorite pastry of Nicolas Sarkosy's wife, Carla Bruni. He said while handing me one out, "Here it is, the corne de Gazelle, Carla had some again last week."
The macaroons from Ladurée especially the Caramel Fleur de Sel, the crunchy chocolates from Le Comptoir du Cacao and the milk chocolate with puffed rice from J.C Jeanson were just delicious!
I enjoyed talking to the artist and chocolatière of Fleur de Xocoatl, who makes beautiful works of art with her chocolates. She came from Brittany to exhibit her painted chocolates.
As well I met with the CEO of La Cuillère Suisse, Barbara Delsaux. She explained how she started a few years ago with her innovative idea, La Cuillère Suisse, a big chocolate stick ready for hot chocolate. "It started as a joke when trying out with her children hot chocolates at café restaurants on the Swiss Riviera", she explained. Then came the Allumettes, chocolate sticks with different flavors to eat while drinking tea or coffee. At the salon du chocolat in Zurich, Barbara brought her prototypes, which will come out really soon, like her unforgettable earl grey ganache chocolates or the ones with coriander. The Press has written much positive comments about her products.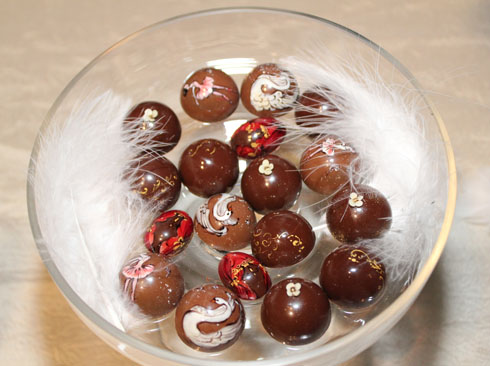 If you missed the Salon du Chocolat in Zurich this year or cannot wait until next year, it will be in other cities during the upcoming months:
Bahia from July 6th to 8th
Paris from Oct 31st to Nov 4th
New York from Nov 9th to 11th
Lyon from Nov 16th to 18th
Cannes from Nov 23d to 25th
Cairo in November (dates to be announced)
Moscow in December (dates to be announced)
Shanghai at the end of 2012
Otherwise until next year in Zurich!
Tagged Barbara Delsaux, Carla Bruni, Fleur de Xocoatl, J.C Jeanson, Just Chocolate, La Cuillère Suisse, la Gazelle d'Or, Ladurée, Le Comptoir du Cacao, Salon du chocolat, Sprüngli, Switzerland, Thomas Müller, Zurich