Travel
Find bears with Reno Sommerhalder
Why not try something different this year? Whether you are the adventurous type,  a wild animal lover or just interested in taking memorable nature pictures, Reno Sommerhalder has what you are looking for.
Since more than two decades the 46 years old Swiss native guides people wanting to find bears. He brings you safely to places you would probably not have gone alone. He knows where to find the bears and how to approach them. Not only he will hike with you but he will teach you important information about the bears.
In the summer and in the fall you will find Reno in places like Alaska, Canada, the Russian peninsula of Kamchatka and this year in Finland.
His tours last 8 days or more but you can always add additional days to your trip if you want to continue on your own.
Reno will show you how to react in front of bears and to be prepared if they do attack. You will learn how to use pepper spray. Traveling with a bell attached to your bag is recommended, especially if hiking alone. Being charged at only happened to Reno four times in his life out of the 10,000 encounters he has had with bears.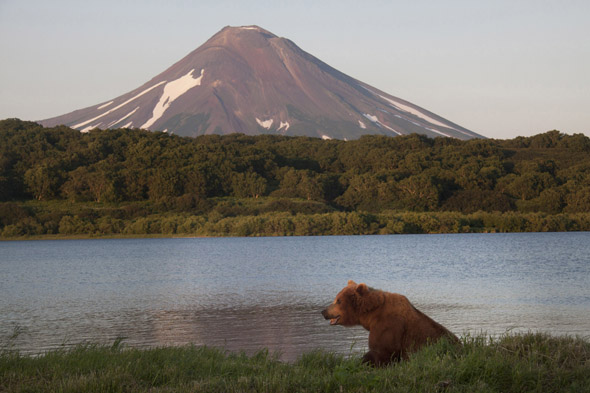 The first time Sommerhalder saw a bear it was a grizzly bear (a brown bear) in Alaska. He told me "I was scared then". It was in 1986 he had moved to Canada and had left to visit Alaska. He met an Indian  when he arrived who told him if you want to find bears you have to go to the river, which Reno did. At first he did not see any and started thinking the Indian probably did not know what he was talking about. After 100 meters, Reno turned back but decided to go back to the river and then saw a bear. The animal charged and came straight at him, running toward the river. The bear never actually saw him, but was  running for the salmon in the river!
Over all these years Reno learned so much about bears. Was the bear Reno's favorite animal as a child? "No," he said with no hesitation, "and it is not now".
For him all species are important. If you remove one it is bad for the ecosystem.
Having bears is a good indicator for a healthy environment he said before his speech at the Kaufleuten in Zurich this winter. I want to make a difference and teach people how to live with bears.
You will learn from Reno that bears are tolerant animals and the risk to be charged is very little but it can happen. 90% of bears will run away. But bears are not teddy bears and you don't want to surprise them. So what should you do when a bear charges? It is known that one should run away for a bison and stay still for a bear but is that easier said than done? Reno repeated twice to me "You don't have time to think. What is important when he charges, is to talk to the bear."
If  you happen to be in the path of a group of cubs, you should start a conversation and clearly tell them "No,no". Make them understand they should not get too close. Mothers are always nearby and are the most dangerous and will do anything to protect their babies. The key is to be noisy and not to surprise a bear!
During your time with Reno, he will tell you about his time in Kamtchatka when he raised a group of cubs with bear expert, Charlie Russell. It was in 2004 but he has not forgotten them. A real bond came out of his unique experience especially with Sky, one female grizzly bear. While he thinks he recognized her during another later trip, he said that bears are different as they don't care if they know you or not. They don't get attached and don't allow any friendship. When the cubs reached the age of 7 months, he said they did not think we were important. What they care for is to eat and how to find food.
There is so much to learn about bears from Reno Sommerhalder.
So are you ready to pack your bags for an exciting trip with Reno and the bears, then check out his website for the upcoming dates and tours?
If you understand German, he tours his home country every Winter and gives conferences. This year he also did some book readings of his last book "Ungezähmt", published in 2011 by Verlag, a must read book for anyone fond of nature and/or bears.
Tagged Alaska, animal, Bears, Canada, Charlie Russell, guide, Kamchatka, Reno Sommerhalder, Sky, Swiss, tours