Maitre Chocolatier Laurent Robatel makes chocolate tablets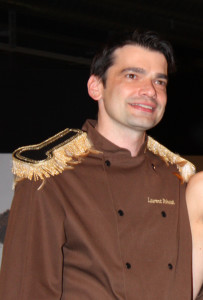 Since yesterday Laurent Robatel, maître chocolatier at Villars, is making amazing chocolate tablets at the Salon du Chocolat in Zurich. You can choose between dark, milk or white chocolate, your decoration motifs and your words and in about 10 minutes you have your tablet nicely wrapped and ready to offer.
Each tablet costs 12 CHF. It is a good idea to order it and pick it up when you leave the fair. Mr. Robatel had lines of people waiting for a tablet on Friday. Villars' stand is easy to find as it is just in the entrance.
If you are interested in the fashion show Villars maître chocolatier has made a dress with Marie-Hélène Prongué (Ecole de Couture of Fribourg) and you can see it every day during the fashion show at 5 p.m.
Tagged chocolate, chocolate tablet, Laurent Robatel, Maitre chocolatier, Salon du chocolat, Villars