Maitre Chocolatier Jean-Claude Jeanson releases a new collector's box
"Il était une fois…le Louvre-Lens"
Chocolate has been known to mankind for centuries, when explorer Christopher Columbus first found cacao beans in 1492 while searching for the New World. Since it has traveled to France where many chocolate lovers have made their profession with what people seem to enjoy more than anything else, chocolate!
For Jean-Claude Jeanson, a French Maitre Chocolatier and pastry maker in the Nord-Pas de Calais region, chocolate has been his life passion. He took over his parents backery/pastry shop in 1992 and in addition to ice-cream, croissants and cakes he started making chocolates sometime during the 90's. His parents had bought the shop almost twenty years before, in 1974, and were making some classical chocolates and chocolate cakes like the tuiles, the orangettes and the rochers. What got Jean-Claude really interested in pursuing with chocolate were his internships with the renown pastry French Chef, Gaston Lenôtre.
It has not always been easy for Mr. Jeanson but he worked hard and became famous in 1998 with his chocolate cake the "Mondial", which is still sold to this day. He won many prizes like the first prize in innovation for "Terroir and Culinary Art" (2004-2007) or a prize "Bernard Loiseau" in Avignon (2006) for Nap' Eclair, a unique chocolate icing made with a cone and liquid chocolate. He is also known as one of the best French chocolatiers. He travels worldwide to the salons du chocolat, where he not only presents his chocolates but his amazing chocolate dresses!
Some of his chocolate creations are inspired by local legends and come out of the ordinary like the Ascalat (with shallots for aperos), the Buridan (black squared chocolate with nuts), the Frivolités Lensoises (a truffle with chestnut cream and juniper berries) and Chocolat Fleur de Bonheur (a dark chocolate with lavender).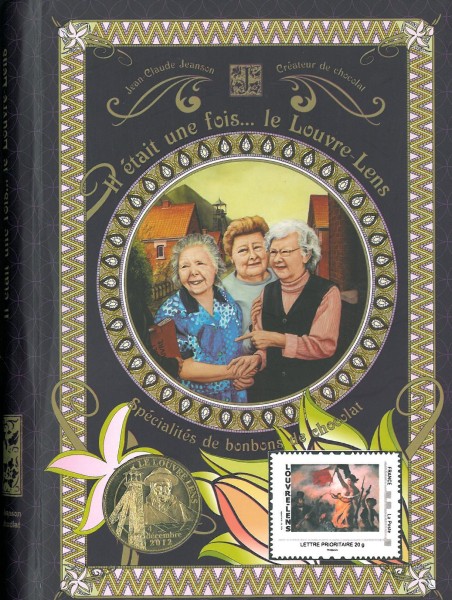 The last few months have been busy for Jean-Claude Jeanson as he has been working on a new collector's box for the opening of the Louvre-Lens. You have heard correctly, the Louvre museum in Paris is opening a new branch of the museum in december. It will show artworks from the 6th century to 1850.
When Maitre Chocolatier Jeanson heard about the news in the middle of the 2000's he created his collector's box. He called it "Coeur de Braise" to remember the mines and the minors. It is presented like a book. In it, you find 1 chocolate again inspired by regional legends. "Coeur de Braise" was released in 2005 and is still offered today.
The officials of the Louvre in Paris loved it so Jeanson decided to release a new one this year. It will come out today on December 4th, day of the inauguration of the Louvre museum in Lens. On that day it will exactly be three years since the first stone was set on an old mine moat.
Jean-Claude Jeanson is proud to present his second collector's box named "Il était une fois…Louvre-Lens". It is presented like the previous one, with 5 chocolates, all with different names. It is a unique box he says, the chocolates are inspired by local legends, they have original flavors, they are light chocolates but this is not all. On the box there are a postal stamp with the inauguration date and a Louvre Lens medal, made from solid brass. In addition, you can find thirty-two pages about the Louvre in 7 languages. What a project for the Maitre Chocolatier, who says having invested about 40,000 euros in this!
At the present time the box will be only sold in his shop in Lens and via the internet. It can be shipped anywhere worldwide. Maybe some day it will be sold at the museum too, he shares as it was once proposed to him.
The museum will be opened for the public starting on December 10th. No doubt it will bring more people to Lens and to Mr. Jeanson's shop centrally located on 42 Place Jean Jaurès.
Jean-Claude Jeanson will not cease to amaze us. He is now working on a new creation to remember once more the mineral field of Northern France. Now, it is official the French mineral field was added to the Unesco World Heritage list on June 30th, making it the 38th French site.
And if you don't find him in Lens in his shop, look for him at the salon du chocolat in Lille from March 1st to the 3rd.
Tagged "Le Mondial", 42 Place Jean Jaurès, chocolate, Coeur de Braise, collector's box, France, Gaston Lenôtre, Il était une fois...le Louvre-Lens, Jean-Claude Jeanson, Lille, Louvre-Lens, Maitre chocolatier, mine, museum, Nord Pas de Calais, Northern France, Salon du chocolat, Unesco site