Munich in the fall (Germany)
Beautiful churches and parks, interesting buildings and museums and of course the annual Oktoberfest!
What about visiting Munich this Fall?
While on vacation this summer, I met a native from Berlin who recently moved to Munich for work. She told me: "I had not realized Munich was so small."
Yes, of course if you have been to Berlin, you will find it relatively tiny but believe me having lived myself in both places, Munich has so much to offer, it will take you a while before you discover everything!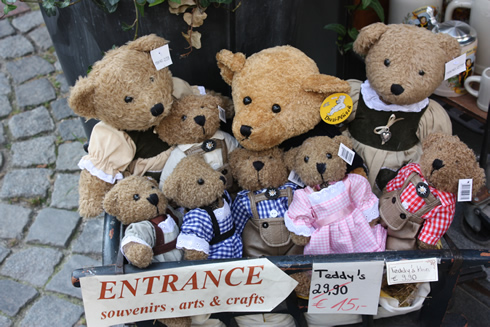 Do you know who founded Munich in 750 A.D. ?
Monks, which explains its name "München"-place of the monks.
The Capital of Bavaria, since the beginning of the 16th century, is a touristy destination all year long.
In 2009 there was a 3,2 % increase of visitors, with the largest group being Americans.
For almost 40 years the 1,3 million population has been able to enjoy a pedestrian zone from Marienplatz to Karlsplatz. The streets in the car free zone offer shopping, restaurants and interesting buildings to admire.
While Lederhosen (leather pants) and the Oktoberfest come immediately to mind when you think about Munich, much vivid history is also connected to it.
The town was under the Hapsburg control from 1705 to 1714. Many streets are named after princes such as Ludwigstrasse
(built under Prince Ludwig I), Leopoldstrasse and Maximilianstrasse (for Maximilian II, son of Ludwig I).
There was also the failed Hitler Putsch in November 1923 in a beer hall in the Feldherrenhalle on Odeonplatz. During the Second World War, the White Rose resistance movements of Munich students ended badly. Wanted to stop Adolf Hitler regime, a few students started distributing leaflets at the Ludwig university in 1942. Finally they were arrested in 1943 and students such as Sophie and Hans Scholl were beheaded. You may have seen the recent movie "The Last days of Sophie Scholl". There is a memorial of the White Rose in the Hofgarten. In April 1945, Munich was saved by the Allied forces.
Munich is a university town with 80,000 students. 6 % of the entire Munich population are students. You can study at the main university the Ludwig-Maximilian University or the Technical University. They accept students from other countries for exchange programs. It was King Ludwig I of Baveria who moved the Ludwig-Maximilian university in 1826 to Munich. It had been founded in 1472 in Ingolstadt.
Buildings to remember:
Following are some photos of buildings that caught my eye while walking last October in Munich.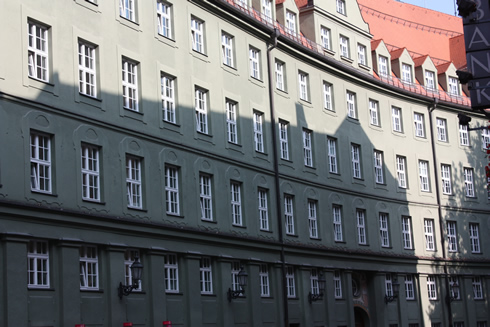 On Marstallplatz pedestrians can walk to the Bayerische Staadt Oper (Baverian Opera house) and observe for the last five years the work of Olatur Eliasson. The Danish architect put together with the worldwide known German company Schott AG ( for glasses, lenses, energy…) in 2005 a "Bühnenfenster" literally a window stage. The 175m2 and 300m2 glass facade allow reflections and anyone in the street can not only observe something projected but also can become a part of the screen like in a film.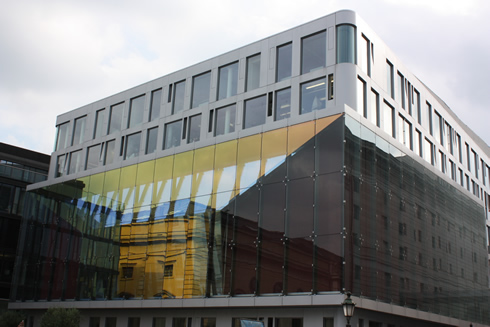 See below a good example in Rindermarkt of how old and new buildings can look when nowdays modern buildings are built. The old tower Löwenturm from the 15th-16 centuries with its 75.5 feet (23 meters) is unfortunately closed to public.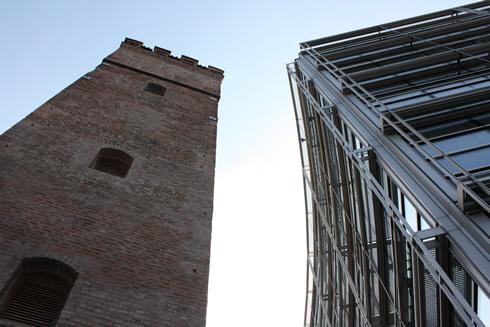 And there is the new city hall on Marienplatz in the Altstadt (old town). The hall looks neogothic and is known for its bells ringing (carillon).
The square of Marienplatz used to be called Schrannenplatz because it was a market for cereals and other land products. In 1854 when the Mariensäuler was brought, it was name Marienplatz in memory of the Virgin Mary.
The city hall is absolutely beautiful with geraniums hanging during spring and summer. In December is held one of the Munich Christmas markets there.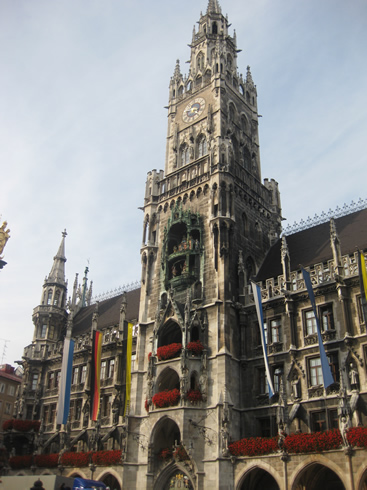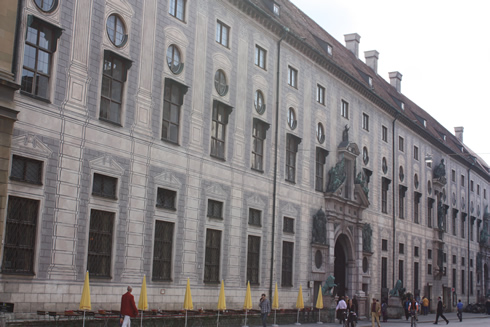 Parks and gardens to wander through:
If you like the outdoors and strolling in parks and gardens, Munich is the place to be.
The Hofgarden or Royal Gardens near the Residenz and Odeonplatz is quite beautiful. It is was designed in 1614. There is a little temple in the middle.
It is a great place to relax on benches or listen to classical music. Musicians tend to sit in the temple to play flute, violin or other instruments.
Another place to go to is the English Garden. It is one of the largest parks in Europe with its 3.7 km2 surface area.
Made for Prince Karl Théodor by the architect Ludwig von Sckell in 1789, it is the perfect place to bring your friends or children for a stroll, go swimming, pick-nick or play ball.
There is a little lake, a Chinese garden with a beergarden and it is known for its naked sun-bathers next to the Isar.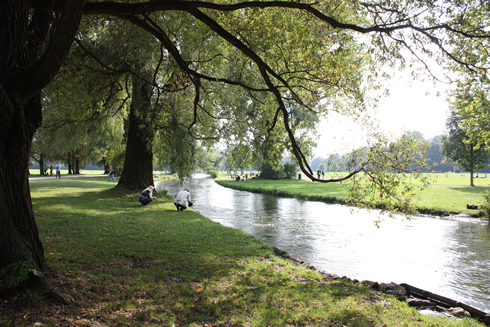 Also if you have extra time, go to the Olympiapark. During the day the 2.8 km2 is perfect for walks and rowing boats.
It became a park in 1972, when it was made for the Summer Olympic games. Before it had been an airport.
There is a TV tower in the park. At night, the stadium is a great place for concerts. Tina Turner, Paul Mc. Cartney, the Rolling Stones, Phil Collins, Prince and Bon Jovi all have come to sing in the Olympic Stadium.
The last park I will mention, but not the least, is the Westpark (on Pressburger Strasse, Sendling). It used to be my one of my favorites during my year in Munich. It has a lake, a rose garden and a beautiful Chinese and Japanese gardens.
Best churches to visit:
No matter if you are a religious person or not, the churches in Munich will please your eyes and are well worth a few minutes of your time.
Church of Our Lady known as the Frauenkirche:
This cathedral is the most recognized building in Munich. It was built in the 15 th century. The red brick building with two copper onion tops has two towers of 324 and 328 feet (99 and 100 meters). 
After 10 years, the construction was completed thanks to pilgrim's contributions.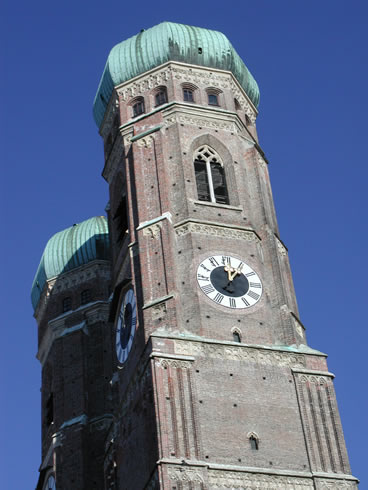 Theatiner Church of St. Kajetan on Odeonplatz:
It is known for its yellow colored outside, which you can see from far away. The style is Baroque. It was commissioned by Prince Ferdinand Marie and his wife who wanted to build the nicest church to thank God for their child.
Church of St. Michael:
This Renaissance building was commissioned by Duke Wilhelm V.
Church of St. Peter:
Located on Marienplatz the styles are Baroque with a Gothic interior.
Museums not to be missed:
There are many good museums in the city. Here are my two favorite ones:
Old Pinakothek-Alte Pinakothek:
Located on Barerstrasse 27 near Theresienstrasse, it was commissioned by Prince Ludwig I. It is a great place to enjoy the old masters such as Dürer, Bouchier, Rubens and Boticelli.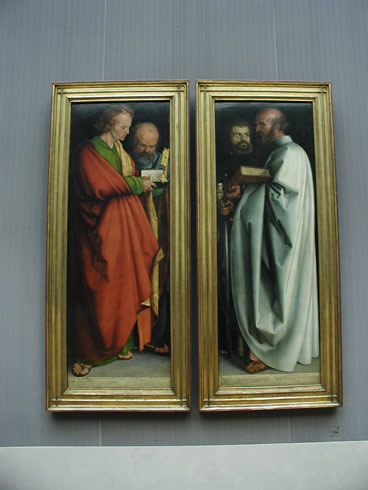 New Pinakothek-Neue Pinakothek:
Located on Barerstrasse 29.
It holds painting and sculptures from 1750 to Art Nouveau. You can see Manet, Gainsborough, Rodin and Münch for instance.
Deutsches Museum-German Museum:
This is the first museum I ever went to in Germany 20 years ago. I got lost as it is so big. It is the largest technical museum in the world.
It took decades to build in the 1900's and was severely damaged during WWII. It is located on the Museum island. The technical museum has exhibits on six floors and shows for instance automobiles, airplanes, trains and musical instruments.
Fun things to do in Munich:
Watching the surfing on the Isar near the English Garden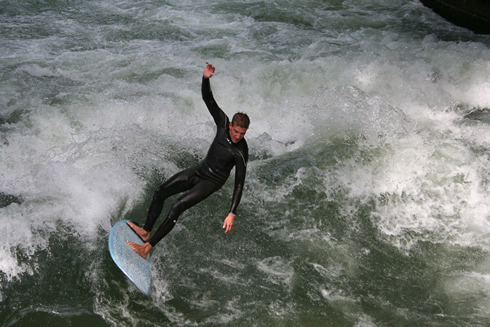 discover the city by bicycles or modern stand up electrical bikes
go to the Viktualienmarkt to see or buy fresh products. See the famous maypole on the square
Visiting the Oktoberfest:
This year the Oktoberfest is celebrating its 200 year anniversary.
Last year more money was spent on beer and less on souvenirs, and rides. Also more Oktoberfest beer mugs were stolen than the previous years!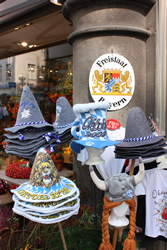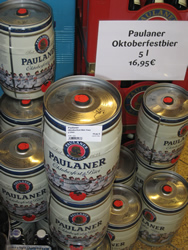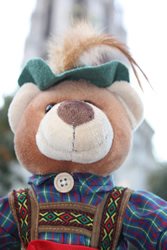 Despite the warm Fall weather, less people came to the festival. Only 5,7 Million visitors came to the Wiesn according to the city Munich department of labour and economic Development, bureau which records the number of visitors since 1980. In 2009, it was the lowest number since 1988 (also 5,7 Millions) and with 1985 being the best in visitor entries with 7,1 Millions.
As the Oktoberfest tends to see more people during anniversary years, this year should be good for the organizers of the Oktoberfest.
Less and less chickens are ordered at the Oktoberfest. In 20 years it decreased by half from 807,710 in 1991 to 488,137 in 2009. The same phenomena is happening to the consumption of sausages, from 250,000 before to 116,923 last year.
If it seems that people's food consumption habits at the Oktoberfest are changing, they continue to consume more and more beer! In 2009 6,6 Million of 1 liter mug were sold.
Here are some interesting facts about the Oktoberfest:
8000 workers on the Wiesn
18 transformers
160 outlets
3 Million Kilowatt power supplied
70 % of the visitors are Bavarian, 22 % foreigners
More things to know:
The Münchner Kindl or Munich child opens the festival parade on a horse. Later the mayor taps the first beer in the Schottenhammel tent at noon on Sept. 18th.
The Family Day is on Tuesday offering cheaper rides and food.
More Foreigners go to the Hofbrau tent while the young and singles mingle more in the Hippodrome tent.
How to get around in Munich:
It is best to use buses, U-Bahns and S-Bahns. You can buy a 1 day, 3 days or weekend passes. 
Where to sleep in Munich:
I recommend three hotels.
Novotel Hotel
Hochstrasse 11, Munich
Call 49 089 66 10 70.
Great place for families. Near the Deutsches museum and the Hofbräukeller and easy to walk downtown.
Marriott Hotel
Berlinerstrasse 93, Munich
Call 49 89 36 00 20.
Nice for business and families. Downtown quickly reached with public transportation. Park for free in the street.
Arabella Sheraton
Arabellastrasse 13, Munich
Call 49 089 92 64 95 01.
Where to eat:
Hofbräukeller: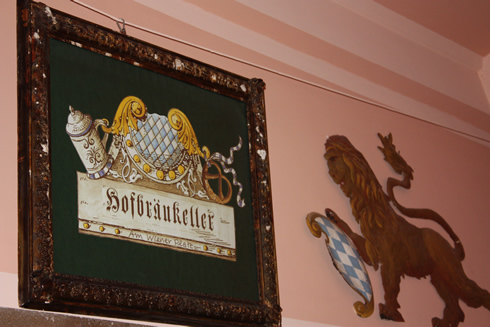 It is the place to go to for traditional Bavarian food. In Munich since 1589, constructed by Duke Wilhelm V. The brewery was at the beginning only for the court.
Chinese Tower Beer Garden:
I recommend this place for the food and beers. It is enjoyable and big. It has a great self-service cafeteria. You can eat while listening to festive music. It is still opened during the Oktoberfest week, but does become quite empty.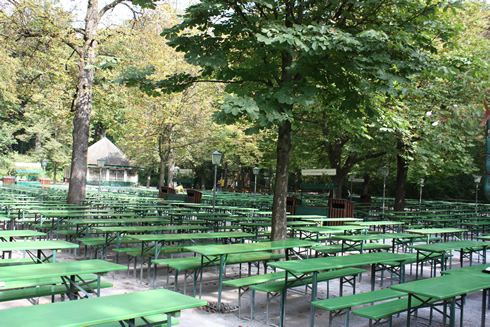 I could continue writing about Munich for hours.
Whether you have visited for the first time or rediscovered for the second or the third, there will always be more to see and experience in Munich!
Happy Oktoberfest!!!
Tagged Bavaria, Baveria, beer, English Garden, Fall in Munich, German history, Germany, Hofgarden, München, Munich, Odeon Platz, Oktoberfest