Poitiers – Step back into the Past. A city of 100 steeples, Poitiers never ceases to interest and amaze visitors as Véronique Gray finds out.
originally published in Destination France, Issue 18, February 2007
LE WEEKEND
A city of 100 steeples, Poitiers never ceases to interest and amaze visitors as Véronique Gray finds out.
Between the valleys of the Boivre and the Clain rivers in the Western part of France lays on a rocky promontory, Poitiers, a charming town with a rich historical past. It has never been easier to come to Poitiers from England, as in addition to the TGV from Paris-Montparnasse, there are direct flights from London.
Last time I planned a trip there, I booked a conference, 'Poitiers in the Middle Ages', and a guided tour, 'The episcopal quarter', from the tourist office.
I did not regret my choice. Our dynamic lecture guide, Philippe, knew his topic well, showing slides and mixing anecdotes with facts to perfection. My only disappointment is that it all had to end.
Eager to learn more, I went to the downtown library.  Even if you have never been in Poitiers, you probably have heard of its two most famous battles. In 732, the French successfully stopped the Islamic invasion in Aquitaine. Although named the Battle of Poitiers, the fight between the armies of the Frankish commander, Charles Martel, and those of Abd-el-Rahman happened somewhere near Tours, north of Poitiers. It was an amazing victory for Charles Martel, who continued fighting and pushed all Islamic armies out of France. Historians believe that during this battle Charles was nicknamed 'Martel', which means 'hitting like a hammer' in French.
The French and the English fought for decades during the Hundred Years War during the Middle Ages. In 1346, the English were victorious at Crécy. Then, ten years after plundering Poitiers, they came back and won the second most important battle of the war, the Battle of Poitiers. The bloody fighting took place southeast of Poitiers in Nouillé-Maupertuis. Prince Edward defeated the French king, John II, and kept him prisoner in London. To pay his ransom to have him released, the French franc currency was created. The battle was a terrible loss for the French. With the treaty of Brétigny in 1360, Poitiers became a Plantagenet territory until Du Gesclin took it back in 1372.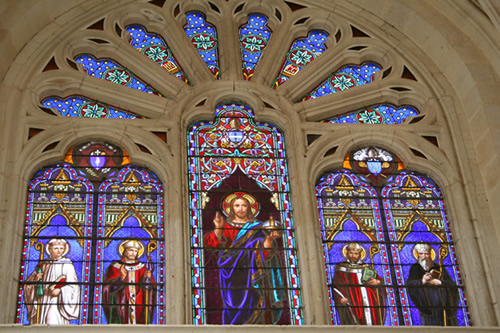 WALLED VILLAGE
If you can, visit the peaceful village of Nouillé-Maupertuis. The old Benedictine abbey behind fortified walls is worth it. There is also a beautiful walk to take along the Moisson river and through the woods, if you have more time. This country stop will definitely make your day in any season.
Back to Poitiers, the following day, I couldn't wait for my guided tour. Our guide, history Professor Dominique Lasnier, told us that there are 78 protected historical monuments in the city today. We first walked to the Gothic St Pierre cathedral. What a grandiose building from the outside! "It is 164 ft wide", says Dominique.
Started in 1162, it took more than two centuries before its inauguration in 1379. It is Henry Plantagenet, King of England, who commissioned it for his wife, Eleanor of Aquitaine.
Both are portrayed on the crucifixion stain-glass window. Striking for its flamboyant colours of red and blue, it is one of the oldest in the country. For those interested in organs, one can get a tour of the intact Cliquot (with its 3200 pipes), one of the last three in France. Don't miss the beautifully carved 13th-century stalls in the choir and the Trompe l'oeil sculptures in the entrance. Look up at the amazing bulging-ribbed vaults, a characteristic of the Plantagenet architecture. They are squared, shaped like a dome. But I must say what I liked the most were its three naves of equal height, often referred to as Eglise-Halle.
The prestigious baptistery St. Jean was our next stop. It was once a very important place as when Christianity spread throughout Europe, it first came to Rome, Poitiers and to Lyon. Probably dating from the 4th century, it is one of the last three in France. Baptism was for adults only and by immersion in a pool. One can admire some 12th-century frescos and very old sarcophaguses.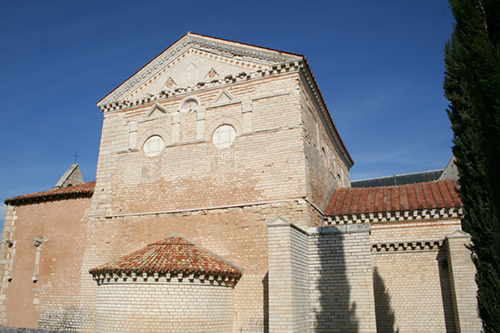 From there, we crossed the street to go to the 11th-century church St- Radegonde. Named after a French queen originally from Germany, St-Radegonde took care of the poor and the sick, before founding the first monastery for women in the 6th century and becoming a nun. The choir will take your breath away. Imagine being surrounded by many colourful stain-glass windows, each more beautiful than the other, by carved pillars with animals and human motives and under a gigantic stunning ceiling fresco.
After four hours our tour ended with everyone wanting more. Still motivated, I continued my sightseeing alone as Dominique suggested. I went to the Roman church Notre-Dame La Grande. Probably the most visited historical building in Poitiers, it is ideally located in the centre, on the market square. Since its renovation in the1990s, the outside façade is a pure wonder. In the evenings each summer and for Christmas, a 15-minute laser show makes the visitor relive the Middle Ages, projecting vibrant colours on the carved motifs of the façade. In the 12th century the sculptures used to be painted. Get an early spot outside to watch the show, as it is very popular. Despite its restricted luminosity, the inside is a plus, especially its chapels' stain-glass windows.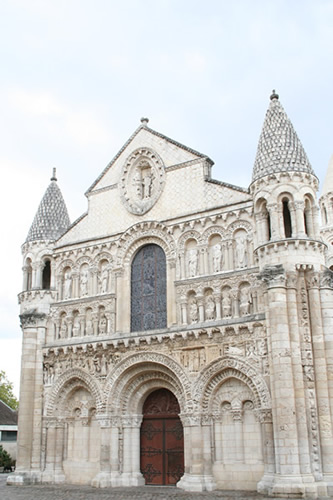 SEEKING JUSTICE
Then, I headed toward the Palace of Justice nearby. Once the residence of the Counts of Poitou in the 11th century, the most significant room today is the Salle des Pas Perdus. It is the largest medieval banquet room in France, built under Eleanor of Aquitaine. Theologians and doctors interrogated Joan of Arc there in 1429. Proclaiming she had a godly mission to save the city of Orléans from the English, they had to make sure she was telling the truth. After proving she was sound minded, they let her go to Chinon to meet the Dauphin.
If you are wondering why the interrogation happened in Poitiers, it is quite simple. During that time, all armies were forced to go through Poitiers to make it to the Ile de France. All official meetings occurred in this city, but it all changed with the start of the Religious Wars in the 16th century.
Behind the palace stands a statue of Joan of Arc, looking like an angel. Brought to commemorate the five hundred years' anniversary of her passage, it is not the only place reminding visitors of her importance. In the street of the cathedral, a plaque hangs to remember her. In Notre-Dame La-Grande, there is a magnificent stain-glass window in her honour.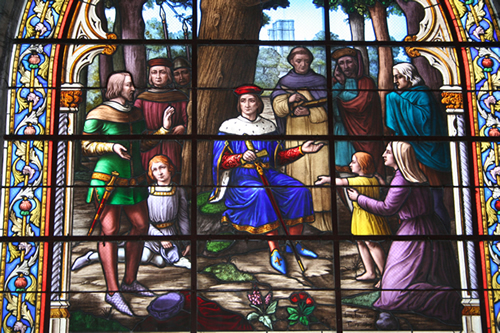 While strolling, you will notice many students sitting at the outside cafés. The reason is that Poitiers is known for its university. Founded in 1431, it became the second most important one in France in the 16th century. Many known French and foreign historical figures of the time such as Francis Bacon, Rabelais and Descartes studied there. Many high schools are also located downtown, making Poitiers a very lively place to be.
For those with fine palates, there are many tasteful culinary specialities to try. But what are they? If you enjoy snails, why not try the tasty petits gris? Locals call them lumas and like them much better than those from Burgundy. You may prefer a farci poitevin, which is a slowly cooked paté made of herbs and vegetables. If you have a weakness for cheese, don't miss, the chabichou, a smooth goat cheese. You will find plenty to bring back home at the weekly Saturday market. For those more into sweets, you can find in supermarkets the tourteau fromager (a round soft cake made of fresh cheese, yellow in the inside and burnt on the outside) and the broyé du Poitou (a buttery, dried and breakable cake), but my favourite is the gateau Bonne Mémé (a flaky cake, rich with butter and almond) from the store Rannou-Métivier.
Visiting Poitiers is ideal for someone planning a long weekend outside of Paris, a detour after visiting the Futuroscope nearby or a stop on the way to the Southwest of France. No matter what you choose to do during your journey, you will be drawn to come back. So, keep some sights for next time! Who could remain insensible to the charms of the medieval downtown with its ancient buildings and timbered houses?
INFORMATION
TRAVEL
Road
From Paris by car take the N10 or the A10 going South.
Poitiers is 330 km away from Poitiers.
www.autoroutes.fror www.viamichelin.com
Train
With the TVG Atlantique from Paris Montparnasse it takes 1hour 30 minutes.
T: (0033) (0)8 36 35 35 35
Air
Aéroport de Poitiers-Biard
T: (0033) (0)5 49 30 04 40
Ryanair offers cheap flights from Stansted to Poitiers.
For booking call 0906 270 5656 or www.ryanair.com
TOURIST OFFICE
45 place Charles de Gaulle
86000 Poitiers
Situated directly on the market place
T: (0033) (0)5 49 41 21 24
F: (0033) (0)5 49 88 65 84
E: accueil@ot-poitiers.fr
Visit www.ot-poitiers.fr
They offer individual and group tours in French all year and in English mainly during the summer holidays. You can also choose to tour the city on your own, guided by the detailed map. There are three trails you can follow depending on your taste.
PLACES TO EAT
*Chateau du clos de la Ribaudière
10 place du Champ de Foire
86360 Chasseneuil-du-Poitou
T: (0033) (0)5 49 52 86 66
F: (0033) (0)5 49 52 86 32
E: ribaudiere@ribaudiere.com or go to www.ribaudiere.com
The restaurant offers French nouvelle cuisine. It is also a hotel.
*Le Roy d'Ys
51 place de la cathédrale, 86000 Poitiers
T: (0033) (0)5 49 88 81 47
Excellent crêperie
*François Lafond Restaurant
31 rue Carnot,86000 Poitiers
T: (0033) (0)5 49 03 37 02
F:  (0033) (0)5 49 03 37 60
Traditional Cuisine
*La Serrurerie
28 rue des Grandes Ecoles,86000 Poitiers
T: (0033) (0)5 49 41 05 14
Café and restaurant and Brunch during weekends
*Rannou-MétivierCakes and chocolates regional specialities
30 et 13 bis des Cordeliers, 86000 Poitiers
T: (0033) (0)5 49 30 30 10
PLACES TO VISIT
*St-Pierre cathedral
T: (0033) (0)5 49 41 23 76
Place de la cathédrale
*Church Notre-Dame La-Grande
16 rue Ste Opportune, place Charles de Gaulle
T: (0033) (0)5 49 41 22 56
Open daily from 9am-7pm
*Church St-Radegonde
1 rue Sainte de Croix
T: (0033) (0)5 49 41 23 76
*St-Jean Baptistery
Rue Jean Jaurès
For openings T: (0033) (0)5 49 41 21 24
Fee: 1 euro for adults.
*Palace of Justice
10 place Alphonse-Petit
T:(0033) (0)5 49 50 22 00
ACCOMODATION
POITIERS HOTELS
Le Grand Hotel ***
28 rue Carnot, 86000 Poitiers
T: (0033)(0)5 49 60 90 60
F: (0033) (0)5 49 62 81 89
E: grandhotelpoitiers@wanadoo.fr
visit http://grandhotelpoitiers.fr
POITIERS
Chateau le clos de la Ribaudière ***
10 place du Champ de Foire
86360 Chasseneuil-du-Poitou
T: (0033) (0)5 49 52 86 66
F: (0033) (0)5 49 52 86 32
E: ribaudiere@ribaudiere.com or go to www.ribaudiere.com
POITIERS
Ibis Poitiers Centre
15 rue du Petit Bonneveau, 86000 Poitiers
T: (0033) (0)5 49 88 30 42
F: (0033) (0) 5 49 55 11 87
POITIERS
Best Western
Bois de la Marche
Poitiers Sud RN 11, 86240 Poitiers
T: (0033) (0) 5 81 18 90 02
SAINT BENOIT CAMPING
Camping St-Benoit **
Route de Passelourdain, 86280 Saint Benoit
T: (0033) (0) 5 49 88 48 55
Tagged Alienor d'Aquitaine, Baptistère St Jean, Eglise Notre Dame, France, Gothic architecture, Jeanne d'Arc, Plantagenet history, Poitiers, Poitou Charentes, St Pierre cathedral, Western part of France