Tartiflette (4 servings)

What you need:
2.4 pounds (1.1 kg) of potatos good for boiling like Charlotte potatos
1 ripe Reblochon or Reblochon for Tartiflette
1 onion
10.6 oz (300 g) of diced bacon
3 tablespoons of crème fraiche (double cream)
1 large glass of white dry wine (cooking wine is good)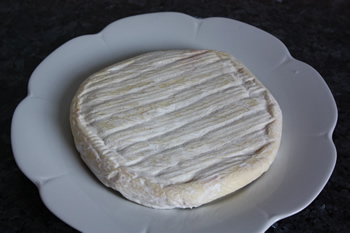 How to make it:
1. Boil the potatos with the skin until they are cooked but do not over cook them.
2. Fry bacon and put on the side.
3. Peel the onion and sauté until lightly brown.
4. When the potatos have cooled down, remove the skin and cut them in slices.
5. Take a long pan to go in the oven like 11 X 7 inches (27 x 18 cm) and butter it.
6. Put a layer of potatos and then add some bacon and onion. Add another layer of potatos and bacon.
7. Now take your Reblochon cut in two by the middle and lay the two sides on top of the potatos. Crust has to be on the top.
8. Pour the white wine gently over it and spoon in the crème fraiche.
9. Put the pan in the preheated oven at 410 F (210 C) and cook for about 20-25 minutes until the cheese is melted and golden brown.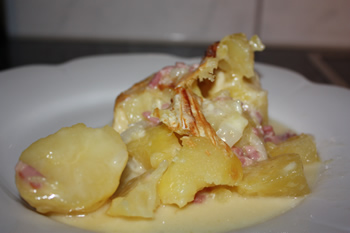 Serve your tartiflette with a good white wine from the Savoy Region like Apremont. You can also drink a semi-dry or dry white wine or a Chardonnay.
Eat with a green salad. Bon Appétit.
Tagged cheese, crème fraiche, potato dish, Reblchon, Tartiflette, white wine