What's up in Zurich
What's up Zurich: Nov 19th- Dec. 31st, 2012
Here are a few activities to do in Zurich until the end of 2012:
Conelli Circus (until Jan. 6th): visit the circus Conelli celebrating its 30th anniversary on the Bauschänzli insland. The program is called "Celebration" and will bring  back the entertainer Pino Gasparini, the Russian acrobat Jelena Kremo, the flag man Canadian Dominique Lacasse, the clowns and comedians Gaston & Ruli and many more artists.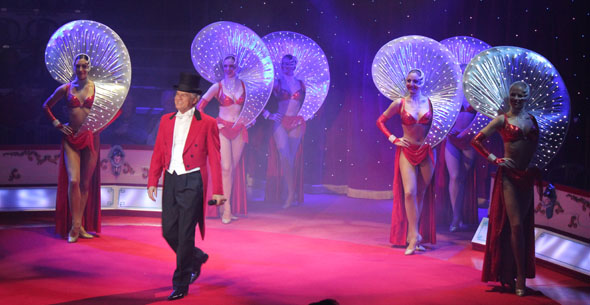 Christmas markets (Nov. 22d to Dec 24th): there is a large Christmas market in the main train station, but also one in the old city and one in Bellevue near the opera house.
Design fair called Blickfang 2012 (Nov. 23 to the 25th):with 220 stands about furniture, fashion and jewellery. This is at the Kongresshaus.
Fondue Chalet (until Dec. 31st): go have a fondue, raclette or flammkuchen at the chalet outside of Sihlcity. It is very convenient before or after a movie or after your holiday shopping.
Fondue Tram ( until March 2d): every year in Zurich during the cold season:  www.fonduetram.ch
Gospels:
Voices of Gospel (Dec. 6th): performance at 8:00 p.m. at the Neumünster church in Zurich
Merry Gospel Christmas (24th): concert with dinner with the Jackson singers starting at 7:30 p.m.
Harlem Gospel singers show (Dec. 27th & 28th): show at the Kongresshaus
Lucy (from Nov. 22d to Jan. 2d): the Zurich lights on the Bahnofstrasse will be lit up through the entire holiday season. Don't miss the beginning at 6:00 p.m. Many stores will stay open late and celebrate.
Merry Blissmas (Nov. 26th): acapella singers will sing renown Christmas songs at the Hechtplatz
The New Kunsthaus Great Art & Architecture (until Jan. 6th): an exhibit – what is happening at the new Kunsthaus
The Nutcracker (Dec 3d): ballet from Peter Tchaikovsky at the Kongresshaus
Operas:
Händel Messiah: Dec 23d at the Zurich Operahouse
Swan Lake from Tchaikovsky (Dec 21st, 26th & 28th) at the Zurich Operahouse
Salto Natale (until Jan. 2d): enjoy a performance of the Rolf & Gregory Knie circus in Knoten. This year it is celebrating its 10th anniversary.
Samichlaus swimming on the Limmat (Dec 4th): already the 12th one this year. If you are interesting to participate or to watch, it is at the Frauenbad, Stadthausquai.
Singing Christmas tree (from Nov. 24th until Dec. 23d): every year on the Werdmühleplatz adults and children sing popular Christmas songs.
New Year Magic (Dec. 31st): find out about all the events and firework for New Year. Please click here
Six-Nights Zurich 2012: bicycle race at the Hallenstadion from Nov 28th to Dec. 1st
Swarovski tree: there is a magnificent Swarovski Christmas tree inside of the main train station.
Swiss Christmas: a spectacle not to be missed in Zurich Oerlikon. There will be music, dance, acrobatic and comedy acts and magic! Click here for the program.
Verdi Gala (Dec 28th): a selection of Verdi famous operas at the Tonhalle
Viva Verdi (Dec 13th – 15th): listen to the famous Verdi's opera tunes such as La Traviata, Requiem, Aida and much more. Location: Hallenstadion
Whiskship (Nov. 29th to Dec 2d) : for its 10th anniversary there will be 45 stands of whiskeys and well-known cigars at Bürkliplatz on many boats.
Zürcher Silvesterlauf (Dec. 16th): yearly race of 1.4 km to 8,6 km for adults and children in the city of Zurich
Tagged Christmas, Circus, Conelli, Kongresshaus, Markets, opera, race, Samichlaus, Swarovski, Swiss Christmas, Tonhalle, Zurich