Where to today? Val Thorens – ski in & out
I spent two winter vacations in Val Thorens and I loved it. I would go back in a heartbeat.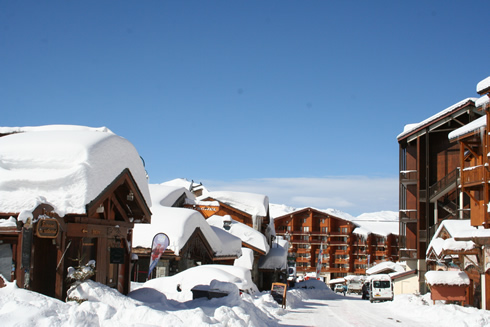 Where is Val Thorens?
If you have never heard of Val Thorens, the village is located in Savoy at an altitude of 7545 feet (2300 meters). It is the highest ski resort in Europe. At that altitude there is guaranteed snow. So, you can ski in and out of your accommodation and all around the station. Despite the snow, the resort has invested in more than 350 snow canons.
And Yes, I am not joking when I say there is is always snow there. A few years ago, snow was not falling much in Europe in the winter and when we drove there in the middle of February, we did not see any snow all around in the fields. The villages just before Val Thorens were completely free of snow. We were getting worried but as we approached the resort, snow suddenly appeared and there was plenty of it at the top. Most of the time you will need snow chains to reach the resort.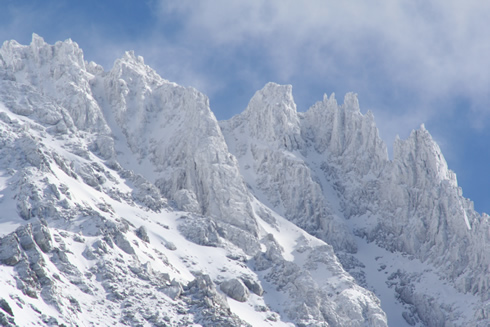 The panorama from your window is just breathtaking. When you ski up, at a high altitude you have a glimpse of the village surrounded with snow. All around are six glaciers like Chavière and Péclet,where you can ski in the summer. Sometimes you are skiing above the clouds.
Val Thorens belongs to the region of the famous Trois Vallées (Three valleys). You can ski and snowboard up to 10498 feet (3200 meters) at the Cime de Caron. You can buy a ticket to ski in Val Thorens-Orelle, Belleville or Les Trois Vallées; so you can ski on 86 miles (140 km) of slopes, 186 miles (300 km) or 372 miles (600 km).
Skiing, snowboarding and transportation:
If the resort is not good for cross-country skiing (only 3 miles/5 km of slopes), it is perfect for every other type of skier. There are many blue and green slopes, however intermediate and excellent skiers will have more choice of slopes.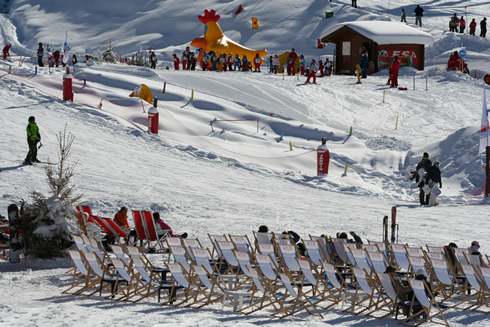 In recent years, much money was spend on installing new cable cars, chair lifts, gondolas and funiculars. Wintersport is now even funner as you can be on the slopes faster. The cables are said to have enough room for 53,000 skiers per hour.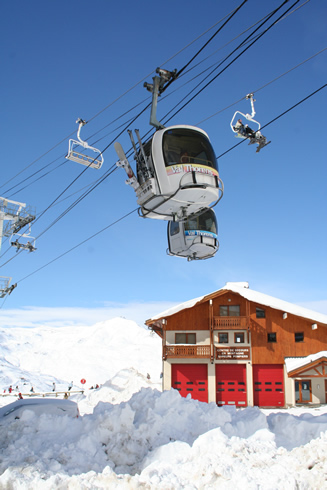 For the snowboarders and freestyle skiers there is a 70,000 m2 snow park. The park was recently added and the Jump Air feature is much appreciated.
Also Val Thorens recently spent much time improving the slopes for the beginners. It spent up to 1,5 Millions Euros for buying magic carpets, which are covered and move quickly. Beginners also have the option to buy a cheaper pass giving them access to 9 lifts and slopes of their level.
You can rent snowmobiles in Val Thorens, take Telemark and freestyle mogul courses and do some off piste skiing with professional guides.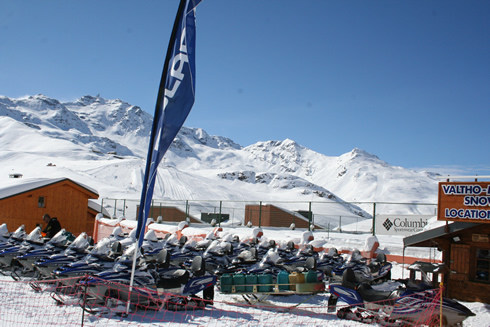 What to do in Val Thorens if you are not skiing or snowboarding:
If you don't care too much for skiing or snowboarding, you can try snowshoeing. Many organizations like the following propose interesting walks:
Raquette nature www.raquettenature.com
French Ski school www.esf-valthorens.com
Ecole de la montagne www.ecoledelamontagne.fr
Sometimes, it snows so much you can't even go skiing. What can you do in Val Thorens?:
go shopping
go to the cinema
go bowling
go to the sport center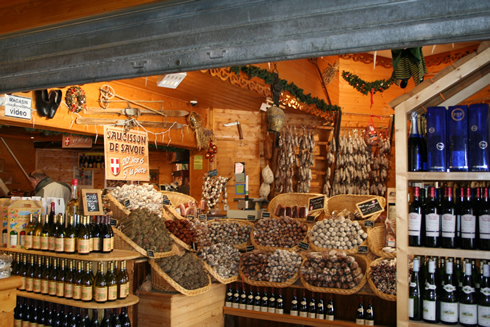 The village has a night life and lots of pubs, bars and discotheques to choose from. If you want to go out and eat, it has many restaurants.
You can shop at the weekly market or at the Savoy specialties shop for sausages, cheese and wine. If you want to eat out, there are many raclette, fondue and tartiflette restaurants. If you prefer eating in your own rental, you can rent the fondue and raclette machines where you buy the cheese and meet. I started the habit of bringing my own fondue and raclette machines with me. As we always drive, it is quite practical. I always bring an adapter with me.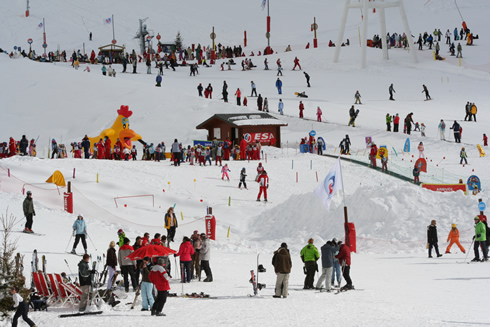 Children activities in Val Thorens:
Children will not be bored in Val Thorens. Activities for the little ones can go from: going to the Aquaclub, sledging on the toboggan, going to the fun park and junior park. If you need daycares, the resort has three and a mini club for ages from 3 months to 6 years old.
Where to stay:
There are many rooms available to rent from private chalets, apartments, affordable hotels to luxurious clubs and hotels like Club Med, Village Montana, Fritz Roy. Three stars accommodations like Pierre Vacances and Cheval Blanc are nicely located.
Rentals and hotels are mainly rented from Saturday to Saturday. Check
here with the tourist office for shorter stays.
Driving there:
The village is a car free village. There is a large parking garage at the entrance of the village. You are allowed to drive into the village only to deposit your luggage and equipment. You can also take the train to Moutiers and then take a shuttle or taxi.
Most people who come to Val Thorens are foreigners, mainly Dutch, British and German. Only 30 percents are French!
Val Thorens hosts lots of winter sport competitions and is open this year for skiing at least until April 25th, 2011.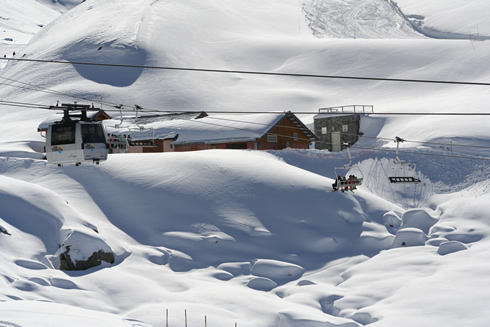 Tagged France, Les Trois Vallées, outdoors, ski resort, Val Thorens