Winter walk in Beatenberg/Niederhorn (Switzerland)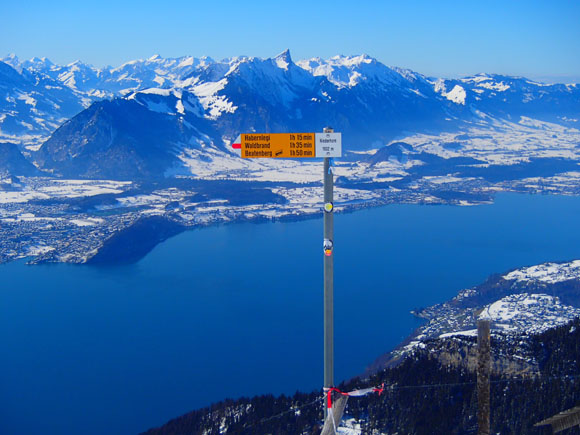 Winter walk in Beatenberg from Niederhorn, Bernese Oberland (Switzerland)[/caption]
Take plenty of water and food with you as you will not find any place to stop until Waldegg in Beatenberg. You can also have a bite to eat at the nice restaurant at the Niederhorn.
The walk is long, but not too difficult. A few parts are tricky and could be hard on your knees. It could also be icy. You may have to slide down or help yourself with walking sticks. Despite its length it is doable for children from the age of 7 or sooner if you have a sledge. 2 hours of the walk can be done on a sledge.
Enjoy the scenery, the majestic mountainous panorama, the icicles, the steps of various wild animals left in the snow, the chalets all covered with snow and the amazing peace surrounding you!
When you are back in Waldegg, you can take a bus back to your hotel in Beatenberg or in Interlaken.
Tips: Start your walk as early as possible to make sure you can get to Waldegg before sunset. Bring a charged up phone with you as it can be quite lonely sometimes. Bring enough food with you. If you have walking sticks, bring them with you to help you through the difficult parts.
Tagged Beatenberg, Bernese Oberland, Mountains, Niederhorn, snow, Waldegg, Winter walk