Dubrovnik, the little paradise of Dalmatia
The magical spell of the old city will draw you back again and again
Seated comfortably in a luxurious tour bus at the end of June, I remained speechless as we slowly approached our end destination. I was not focusing on the winding road any more, but on the breathtaking coastline of the Dubrovnik Riviera and on the ancient city that I could see in the distance.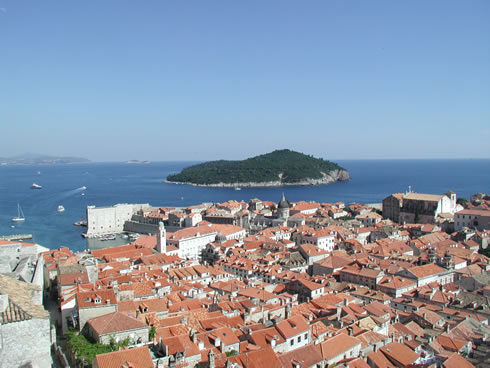 After a 20-minute bus drive, we arrived at The Excelsior, a five-star hotel, reserved for us by the Atlas Agency in Zagreb. We had a room in the newly renovated part of the hotel; it was quiet, spacious and with a good size balcony, perfect for eating a romantic breakfast. The Excelsior offers the best view of the city and of the Lokrum Island. Also it is only five minutes away to the old city, accessible through Ploče, the eastern gate.
People were not exaggerating when they told us: "You will love it". While in the plane, we met an American lady, who comes every year for sailing. She looked astonished to find out it was only our first trip to the Adriatic.
I was eager to find out what was so special about Dubrovnik to bring her back to Croatia year after year.
Magical evenings
Was it the sunset? Sunsets in Dubrovnik are just indescribable. Imagine sitting on your patio or strolling on the beach and looking at the sun going down until it turns a soft pink. Then, admire the medieval city lit up by thousands of spotlights.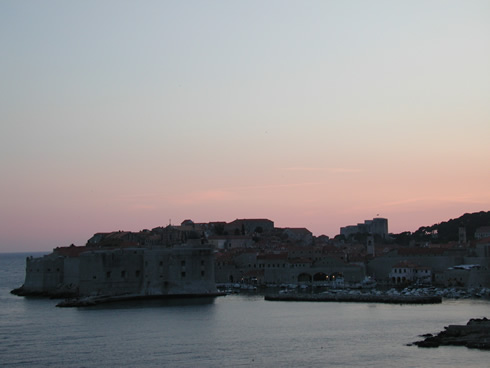 On our first evening, I understood that making visual memories was much more important than taking photos. The view from our patio was postcard perfect, the one you love getting in the post, which makes you say, "I wish I could be there."
Having left the port, a mid size cruise boat passed by peacefully. The air was so soft. The Adriatic was calm. I enjoyed looking at the color of the water becoming darker and darker. From time to time, one could hear some laughter coming from the hotel Taverna down by the beach, perched on a limestone promontory.
Something for everyone
Dubrovnik, on the list of the UNESCO Cultural Heritage sites, has much to offer. If you love going into churches, you will be thrilled: the city has about 18 churches, two convents and one baroque cathedral.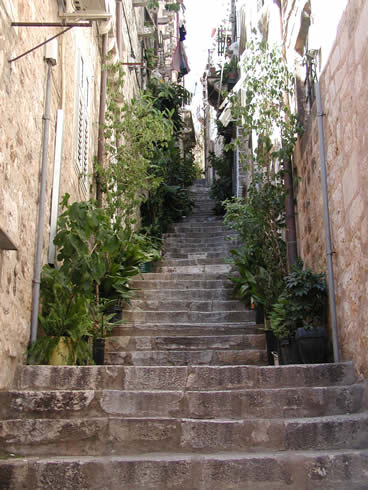 The third oldest pharmacy in Europe, built in 1317, can be found in the Franciscan monastery. Don't miss the 15th century magnificent Pieta just above the entrance door. We particularly enjoyed the cloister with its very lush inner garden, filled with hedges and palm trees. But the most spectacular are the medieval pillars, all sculpted at the top with human, flower or animal motives.
The Recto and the Sponza's Palaces are the only last two buildings from the Renaissance. Just on your way to Pile Gate, the outer gate, is the Onofrio fountain. It is a drinking fountain, interesting for its 16-sided carved masks. Unfortunately, it was severely destroyed during the 17th century earthquake.
Make sure to keep time for the two hours walk around the 600-year-old city walls. The fortified walls, reinforced by towers and a fort, are very famous and once protected the city from invaders.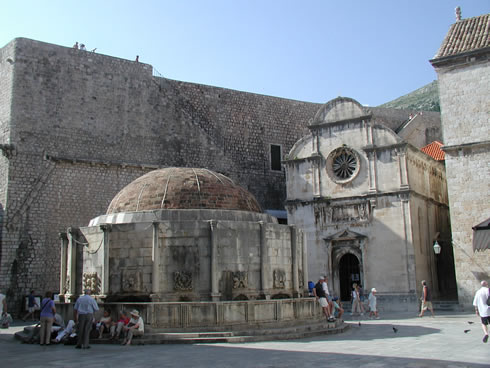 You will not regret the 1.2 mile walk. From there, you will have the best view over the ancient red rooftops. Wear comfortable shoes, as it can sometimes be hard to go up and down the stairs or walk on the stones. Bring plenty of water too. It can be pretty hot especially around lunchtime. There is only one place to buy drinks at the top. If you get too tired, there are a few exits available.  
Every year for 45 days, from July 10th to August 25th, the city of Dubrovnik hosts its summer festival. It celebrated its 60th year last year. The streets become very lively with plays, musicals, classical concerts and folklore. It is a main attraction; so if you plan on coming to Dubrovnik during this time, make sure to book your hotel early.                                     
Getting to know the real Dubrovnik        
                                                                            
Placa, also called Stradun by the locals, is the main pedestrian zone and has a marble tile floor. The street is amazingly clean and shiny. There are shops, but everything is kept inside, making it easy for strolls.
Most restaurants, taverns and cafés are not located on Placa but on the tiny streets between buildings or hidden behind. So, disappear for a moment from the crowd and discover. Go up a few steps and see what you can find.
You will get to see how the natives live and have a deeper understanding of their past. Only a few houses and rooftops have not yet been renovated since the end of the civil war, in 1995. It is hard to believe that people would want to fight in such a beautiful place.
During the eight month siege by the Serbs in 1991 & 1992, many terra cotta roof tiles were severely damaged. After the war, it was a problem to find matching tiles. The best match was found in the city of Agen in France. Others came from Slovenia. Today, if you look closely while sightseeing, you can notice a difference in the shade of the roof shimples.
Going out for dinner one evening, I understood how much pride the Croatians have in their city.  Our tour guide, Ankica, enjoyed telling us stories and showing us spots where the fighting occurred. "Despite how hard it was to be in Dubrovnik during the last war without electricity and water, I did not want to leave," she says." Look at the cross on the top of the hill", she continued pointing in that direction. There, stood a large white cross, which remains illuminated at night. "That is where many men died during the fighting in 1991."
It is believed that on December 6th of that year, about 1000 shells destroyed part of Dubrovnik. In his article "Dubrovnik Reborn", historian Maja Nodari, writes "Within a year, about 2,000 shells rained down on the walled city, damaging 563 of its 824 buildings…"
                                                                                                                                                                                   
Water delights
Croatia is a paradise for swimmers and scuba divers. The water of turquoise color is known for its clearness and cleanliness.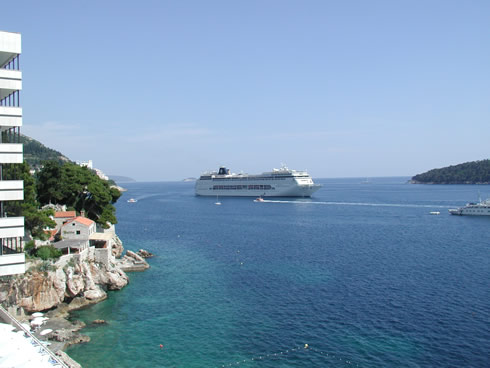 The public beach overlooks the old city. It even has a restaurant and a stylish café with white drapes hanging on the sides and many sofas.  Most four and five star hotels have their own beach or waterfront that can be used by their guests.
If you want more privacy, you can take a ferry to Lokrum Island, 10 minutes away. Ferries come once every hour. There is also a nudist beach there and a pond. You will have to pay a small fee to enter the island. If you feel up to it, you can walk to the fortress, Fort Royal, at the top and have a splendid view of Dubrovnik.
From Dubrovnik you can sail to the Elafiti Islands (Kolocep, Lopud, Silipan). You can rent a boat for the day outside of Dubrovnik at the Marina or hire a sailing boat with a captain. Otherwise, if you are more into luxury boats, there are many ferries going to the islands daily.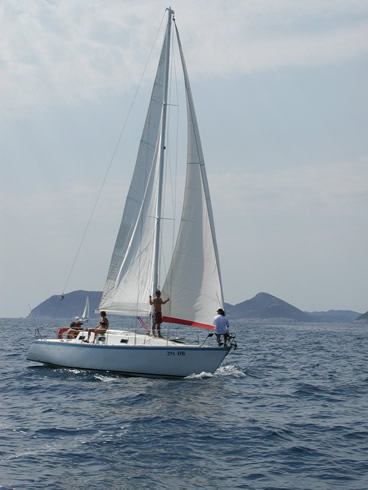 Our agency had arranged an enjoyable sailing trip for five people. We sailed the entire afternoon around the major islands and stopped for drinks. The captain of the boat spoke English, German and some French. It was a relaxing day, sunbathing, swimming, looking at the beautiful coast, and admiring the Croatian villas. The captain even let us sail!
A flair of Croatian gastronomy and folk music
If you have the opportunity, reserve a table at the elegant Nautika Club, said to be the best restaurant in town. The food is exquisite and a folk musical group called Maestral will make your evening even more memorable. All dressed with white shirts, black pants and a silky burgundy belt, they went from table to table singing, till they finally settled down in a corner next to us.
We will never forget the five young talented musicians who sang and played with a passion for us that night for a good 40 minutes. They even did popular folk songs a cappella.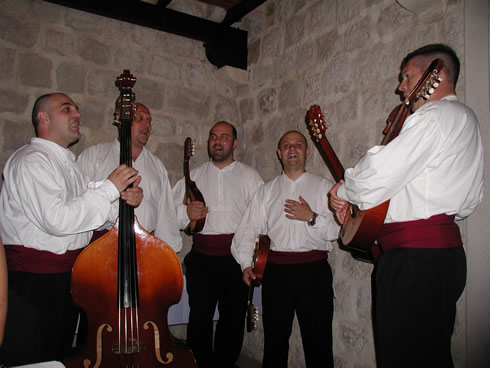 Another excellent place for dinner or lunch is the Konavoski Dvori, a 40 minute drive from Dubrovnik at the Montenegrin border. The country restaurant is located at the bottom of a mountain in an ancient mill. You can reserve a table next to the river and hear the sound of the water running, while you eat some typical Croatian food and drink regional wine. The best part are the waitresses, dressed in their national costume and the vocal musical ensemble that goes from table to table.
Unfortunately after four magical days, our trip had to come to an end. I finally could understand why Dubrovnik is nicknamed "the Pearl of the Adriatic".
On the way back to the Cilipi Airport, I closed my eyes to remember these precious moments. They will be with me forever.
More useful for your trip to Dubrovnik:
How to get to Dubrovnik:
You can fly with Delta (1-800-221-1212) & British Airways (1-800-247-9297). Also call Croatian airlines (011385) 1 66 76 555 or Check Croatia Airlines
Check Expedia or Croatia Travel Agency.
Call Toll free 1-800.602.7628.
Transfer: Taxi and Transportation Service DubrovnikTel: (011385) 98-725 769 or write to tomislav@taxiservicedubrovnik.com. Book in advance if you can.
When to go:
The high season is in June, July and August. In April, May, September and October, the prices can be half the price. The best time to go is the spring and summer but it is more crowded in the summer.
Where to stay in Dubrovnik:
Hotel Excelsior *****
Frana Supila 12 Dubrovnik; Tel: (011385) 20-353 353
Write to info@hotel-excelsior.hr or check their website
Rooms are spacious with balconies. Doubles start at $232 in the low season.
Grand Villa Argentina *****
Frana Supila 14, Dubrovnik; Tel: (011385) 20-475 777
Write to reservations@gva.hr or go to their website
The hotel has a great fitness area and pool; outstanding service.
Hotel Uvala ****
Masarykov Put 6, Dubrovnik 20000; Tel: (011385) 20-433 580,
fax: (011385) 20 433 590; write to sales_uvala@hotelimaestral.com or check their website
The hotel is located in the Lapad bay 10 minutes by bus from the old city. The rooms are clean with great views and the staff is very friendly. 
Hotel splendid ***
Masarykov put 10, Tel: (011385) 20-433 600
Check their website
The place is very peaceful and green. The hotel has a beach and offers great view of the sea.
Where to dine in Dubrovnik:
Nautika Club
Pile Gate/Brsalje 3; Tel: (011385) 20-442 526
or check their website
Nautika offers Croatian meat and seafood specialities. The restaurant has live music. You can only expect the best cooking and service at Nautika. Prices are relatively high but worth it. It is perfect for a special occasion. Reserve in advance.
Konavoski Dvori
Gruda-Konavle; Tel: (011385) 20/79-10-39
Check their website
The restaurant is located 20 miles from Dubrovnik and is famous for its lamb, cheese and smoked ham.
Proto
Siroka, Tel: (011385) 20-323 234
E-mail: sales2@esculap-teo.hr
Check their website
This restaurant is known for its fish specialties and its excellent regional wines. Reserve a table on the terrace if possible. 
Taverna Domizana
Zal 2, Cavtat
Tel: (011385) 20-471-699
Check their website
Lovely restaurant near the water with reasonable prices.
What not to miss in Dubrovnik:
The summer festival starting on July 10th and ending on August 25th.
You can check their detailed program on their website:
Driving or taking a boat to Cavtat, a charming port town, 12 miles away from Dubrovnik.
Tourist office
On the main pedestrian street, Placa; Tel: (011385) 20-426 354.
Write to tic-stradun@du.tel.hr.
Tourist Board office
Od sv. Dominika 7
Tel: (011385)20-323-887
E-mail: info@tzdubrovnik.hr 
check Dubrovnik Tourist Board website
ATM machines
They are hard to find inside the city walls. You can find one on Placa 4. Otherwise, exit the city walls going to toward the west to Pile Gate. There are plenty of them there. 1 $ is about 5,31 HRK (Croatian Kuna).
Atlas Travel Agency
Cira Carica 3, 20000 Dubrovnik, Croatia; Tel: (011385) 20-442 222
Write to atlas@atlas.hr or check Atlas Travel Agency
Tagged Cavtat, Croatia, Croatian history, Dalmatia, Dubrovnik, Dubrovnik restaurants, Lokrum island, sailing in Dalmatia