Excursions from Frankfurt (Germany): castles, closters, vineyards and much more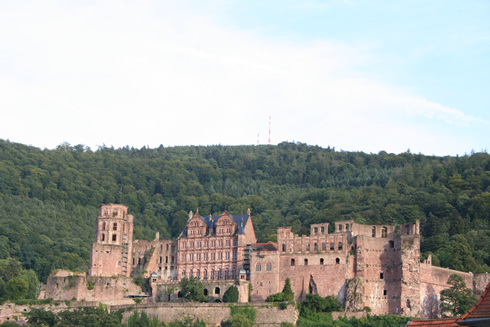 You already have been to Munich, Hamburg and Berlin and are eager to discover new fascinating places in Germany. But where to this time?
 Do you sometimes wish you knew someone planning everything for you, someone who has been there?
Today I would like to suggest three trips you can take while staying overnight in Frankfurt.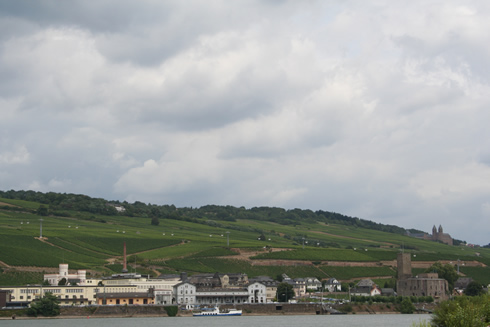 Rhine River and vineyards near Rüdesheim
Day One: Frankfurt – Marburg
Enjoy a beautiful stroll along the river Lahn.
Visit the oldest German Gothic cathedral.
Hike the hill to the top where the 13th century castle stands and enjoy the amazing view.
Walk through the cobblestone streets and by the half-timbered houses in the old town.
Have a slice of German Torte at a relaxing café in front of the Town hall.
Kloster Eberbach, Germany
Day Two: Frankfurt – Rüdesheim – St. Hildegard Abbey – Kloster Eberbach
Spend some time in the narrow streets of the old town of Rüdesheim. The Drosselgasse is very lively, with musicians and a party atmosphere.
Do some wine tasting at the village wine stores. Try the well-known Rheingau Riesling. The annual August wine festival is a plus.
Enter the Käthe Wolhfahrt's Christmas shop. Even if you are not planning to buy anything, it is a nice place to look around.
Drive to the St. Hildegard Abbey. From there, you have a fantastic panorama of the vineyards of Eibingen and the Rhine valley.
Head to the cloister Eberbach, famous for the filming of "The Name of the Rose" with Sean Connery. Many activities and entertainment are offered there. Try the Riesling Spätlese.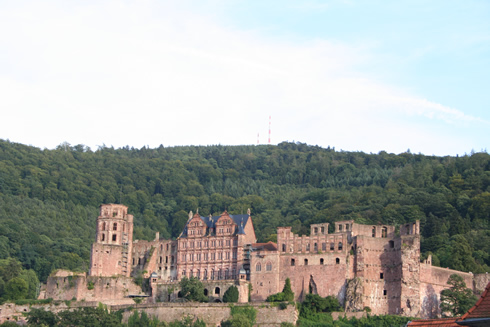 Day Three: Frankfurt – Speyer – Heidelberg
Visit the Speyer Roman Cathedral, a Unesco site.
Walk along the long street of Maximilianstrasse until you arrive at the old city gate.
Enjoy a coffee specialty or an ice cream at one of the many outside cafés.
Drive to Heidelberg and go on the old bridge in Heidelberg for views of the castle in ruins.
Walk to the top of the hill to the castle, drive there by car or take the funicular to enjoy the view of the Neckar river.
 Stroll the 0.6 mile long pedestrian street and stop in the old churches.         
I spent many years in the Frankfurt area and enjoy all of these sites.
Tagged castle, closters, Eberbach, excursions, Frankfurt am Main, Germany, Heidelberg, Rhine, Rüdesheim, Speyer, vineyards