Isabelle Huppert in Berlin with film team of 'The Nun'
On Sunday night the President of the Institut Francais on the Kudamm welcomed the team of "La Religieuse"/"The Nun" and other VIPs for drinks and hors d'oeuvres. Guests mingled for a few hours, listened to live-music and met the cast of the film, Pauline Etienne, Guillaume Nicloux, Francoise Lebrun, Louise Bourgouin, Martina Gedeck and Isabelle Huppert.
The French director, Guillaume Nicloux, came to present his new film based on the novel of Denis Diderot. The book from the 18th century relates the life of a young girl who is forced by her parents to become a nun and the atrocities she has to go through in the cloister.
The actors were warmly welcomed on the red carpet for the Première of the film. At the press conference Isabelle Huppert revealed that when she got the script she had never read the novel before. She was happy to be able to work with Nicloux and is glad to present the film in Berlin, in the country of Goethe, who was the first writer to translate the nun into German.
For Huppert and many actors in the film the novel of Diderot goes across centuries. Nothing has changed much even for the daughter of Nicloux (15 years at the time), who told her father the idea for such a movie was relevant and still modern.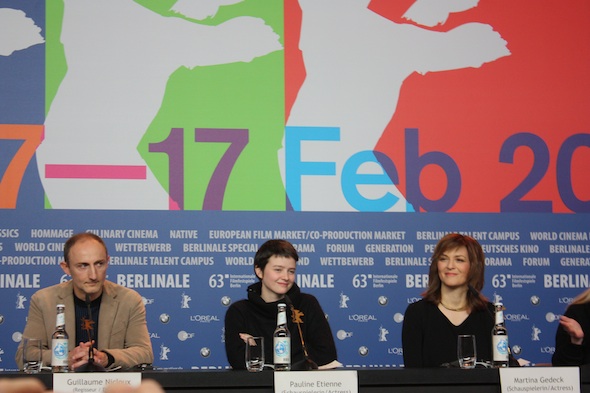 Diderot's novel had left a deep impression on Nicloux when he read it for the first time as a teenager. He could never forget it and always thought that if he one day he would have the chance to direct films he would try to put "La Religieuse" on the screen. Something difficult for him was to find the right angle and once it was found, he could start writing.
Nicloux, who shared he is an atheist, said it is hard for him to think someone could be forced to take the veil and is against religious fanaticism.
Pauline Etienne, the main actress in the film, playing the young nun, is exceptional. She explains how difficult the filming was and that much had not been rehearsed but learnt on the spot. She was asked to practice her singing and playing the piano. While she loved wearing different costumes as it is travelling through many epochs, she shared wearing the nun outfit was quite heavy at times.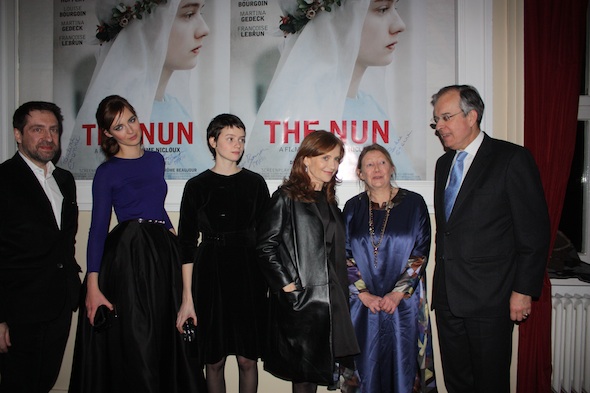 Model and actress Louise Bourgouin, was beautifully dressed for the Première and did not appear as mean as she said she is. "I am naturally cruel", she shared smiling! She may be playing an awfuly mean Superior Mother in the film, but in real life she looks as friendly and lovable as you would expect her to be!
Tagged Berlin, Berlinale, Diderot, films, Francoise Lebrun, Guillaume Nicloux, Institut Francais, Isabelle Huppert, La Religieuse, Louise Bourgouin, Martina Gedeck, Pauline Etienne, The Nun