Monet in Giverny (France): property opened since 30 years
Each time I think of Giverny, I get a smile on my face. I visited Monet's home and gardens only one time, but I still can remember my walk there as if it was yesterday. I can remember the pond and the smells and colors of the flowers. I still can picture myself while standing on the little bridge with hanging wisterias over me.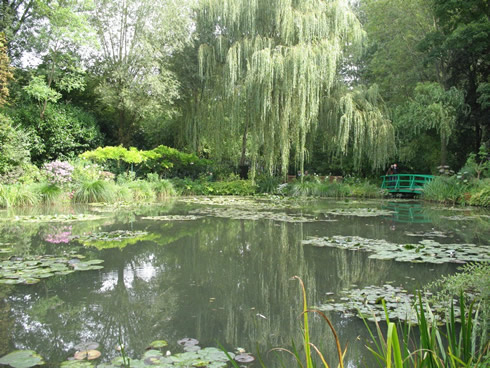 Giverny is for gardens lovers, for people who liked Monet and his paintings. It is the best if visited in the Spring and in the Fall.
If you decide to go, you will not be the only visitor there as almost half a million people enter Monet's home and gardens yearly.
Claude Monet spent half his life in his home in Giverny. He was 43 when he arrived. He died 43 years later in 1926. This year is not only the 170th birthday of the most well-known of the French impressionist painter, but also 30 years since Monet's home has been opened to the public.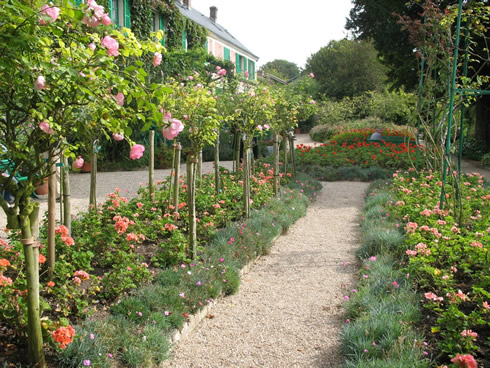 Just like me you will not forget the house: a pink facade with green shutters, a green stairway and green benches, just beautiful. The house is for the most part covered with foliage. Blooming red geraniums, pink rose trees, wisterias, purple and yellow irises, and many water lilies can be seen among other flowers and plants in Monet's property.
Monet got so much inspiration in Giverny to paint his oil painting waterlilies series (also called nympheas) and its famous painting of the little Japanese Bridge.
You can also visit the house and the atelier where he painted.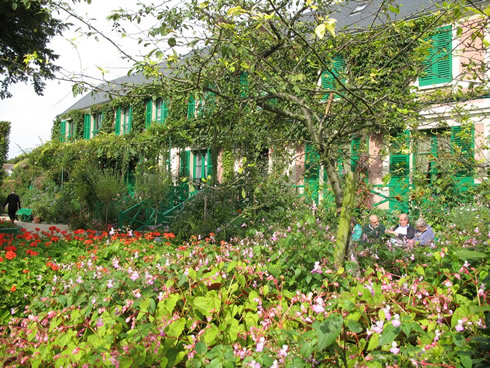 If you are in the area or visiting Normandy, don't hesitate to stop by Monet's gardens.
If you want to visit Monet's home in Giverny:
Opened from April 1st to November 1st. Entrance fee is 6 euros.
Rue Claude Monet. Attention the last entrance is at 5.30 p.m.
Contact Claude Monet's Fondation:
84 rue Claude Monet
27620 Giverny
Call (0)2 32 51 28 21