Zurich Gourmesse: an experience for your senses
This weekend the Zurich Gourmesse was a great place to use all your senses: smell the spices, listen to talks about coffee and Italian specialties, watch a reportage about South Africa and live cooking shows, taste wines and delicacies from Switzerland and Italy…. It even had a senses parcours on the ground floor.
I selected a few stands which caught my attention:
AMERICAN HERITAGE: colorful and attractive stand with great American products for your kitchen
The owners, from Vermont and Iowa, presented interesting cookie shapes at the Gourmesse (perfect for the holidays), sauces, spices and colorful signs. They live in Germany in Augsburg, where they have a shop in the Schertlinstrasse selling American products. In addition, you can find them on the Nymphenburgerstrasse in Munich and in the Rheinortstrasse in Düsseldorf.
LA SIXIEME EPICE: when honey is the star
A couple based in Lausanne, started selling their honeys "La sixième épice" about one year ago. You can find them in Zurich (Jelmoli and Globus), in Lausanne, in Bern, in Solothurn and in Gstaad. From far away you could think the honeys in their classy glass jars could be candle jars. The presentation is beautifully done, so it makes ideal gifts.They said they cared about the appearance and wanted the honeys to look good on a table. Not only the presentation is nice but the honeys are so tasty like the thyme from New-Zealand or the acacia from Hungary. They have 25 different types from 17 countries.
STRAUMANN HUPPEN: the best waffles in Switzerland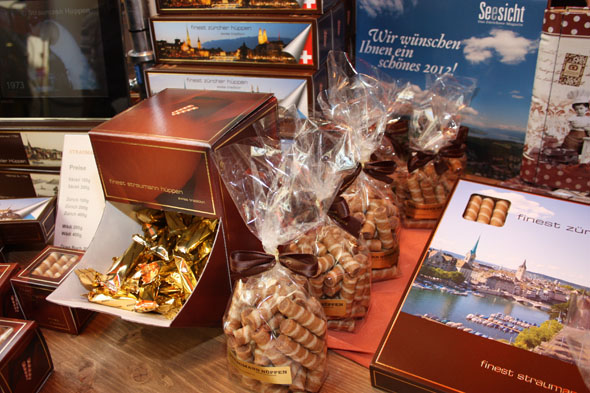 Forty years ago, the family Straumann started making, the Hüppen, a Swiss specialty. They are delicious crispy rolled waffles with hazelnut, packed in various size boxes or plastic bags. It is perfect to bring back to your friends as souvenirs. Tours of the fabric in Wädenswil can be arranged if you have a large group. CEO of Straumann Hüppen,Guido, told me they have now new boxes with views of Zurich.They will be at the Swiss Christmas market at the main train station this year.
STADTLICHASI: cheese specialties from prize winner Willi Schmid
No wonder the cheeses of the cheese dairy Städlichäsi in Lichtensteig are so tasty, the cheese maker, Willi Schmid won the world Jersey cheese awards in 2010. As I arrived at his stand he was proudly lifting an entire cheese of Mühlestein (cow milk cheese). They produce over 16 sorts of cheese made of goat, sheep and cow milk. If you love cheese, you may be interested in the book "Käse & Wein" from Andreas Knecht (2011). You will see Mr. Schmid in it.
ELLY HILZINGER: more jams, jellies, syrups as you could imagine
Mrs. Elly Hilzinger welcomed me in a friendly manner to her stand. She talked about her amazing display of jams, jellies, syrups and over fruity specialties. Everything is homemade. She has over 126 jams, 65 syrups and 68 jellies. She let me try her famous Schwarze Nüsse (Black nuts). It was so sweet and delicious, just perfect to eat with meat or as dessert. She sells 3 pieces for 14 CHF and it can be kept one year. The jams (270g) are 5-6 CHF and the syrups 6.50 to 8 CHF.
 FALBO IMPERIALE: unique homemade pastas from Calabria
The factory Falbo Imperiale in Calabria (Southern Italy) produces 24 pastas, homemade from durum wheat semolina through bronze. It has been opened for a decade now and makes some pastas only found in that part of Italy like the matriciani.
CARAVE: you just have to try the extra virgin olive oil from Zito Giralamo 
With a big smile, the olive oil producer from Calabria, Zito Girolamo, friendly welcomed me to his food and wine stand. He said you have to try my olive oil and handed me a piece of bruschetta with some meat spread. It tasted so good! The olives are hand picked. The olive trees are planted on a hill at a 300 meter altitude.
At the same stand you can try wines from Calabria.
I could not resist and tried a glass of the 2007 Mantonico from some vineyards in Luca Santino. It was just delicious and perfect for desserts or aperitifs. When I told that to Mr. Zito, he said I could only find it in Calabria. So, I brought back one bottle with me but I may have to fly to Italy really soon to get some more!
CONFISERIE ERIC BAUMANN: already 22 years of experience!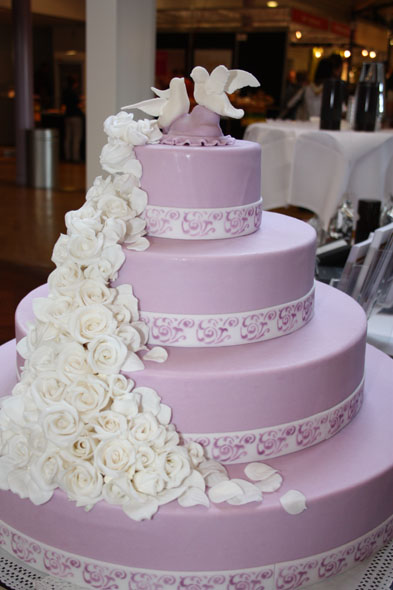 Family Baumann started 22 years ago in Zurich. Now they have over 40 employees selling sweets and cakes. Their shop is located near the Zurich hospital Hirslanden on the Balgriststrasse 2. Babette came with her daughter at the Gourmesse and showed me what they make, like this wonderful wedding cake for 40-50 people. It needs to be ordered at least a week in advance. At the shop you can find various chocolates, aperitif cakes, breads, macaroons and much more.
 http://www.confiserie-baumann.ch/de/index.php
DANOI DUE: delicious Italian almond desserts
I stopped at Fabio's stand. This pleasant Italian lady is the owner of Danoi Due. She prepares tasty sweets with almond, which can be kept up to 14 days. She also bakes for birthdays, shows and business parties.
LA ROSA PRODOTI DI CAPRA: the best Tomme cheese
It was my last stop at the last year's Gourmesse, it was my first stop this year. In one year time I had not forgotten the most delicious goat Tomme you could ever taste. It is made in La Rösa in the Vartegna Alps in Engadin near St Moritz. The cheese can be bought in Zurich at Chäs & Brot, Betulius & Hauri, Chäs Hüttli Bannward, Nahundfein and in Lädeli Frau.
http://www.larosa.ch/prodotti-di-capra/home.html
IL TAVOLO: the first Zurich's table
If you love food and drink and has not yet heard about the Zurich's table, the people from Il Tavolo will gladly tell you more about it. The first festival happened this year end of June in various well-known restaurants such as the Hyatt Hotel. It will be back for the second time in 2013 with more memorable moments.
http://www.il-tavolo.ch/welcome_en.html
The Gourmesse is opened until tonight 8:00 p.m, so don't miss the opportunity if you can make it.
Thank you to Salz & Pfeffer and the Italian Chamber of Commerce in Zurich
Tagged American Heritage, cheese, Danoi Due, drink, Featured, Food, Gourmesse, honey, Hüppen, Hyatt, Il Tavolo, La sixième épice, olive oil, pasta, Straumann, Sweets, Tomme, Willi Schmid, wine