What's new at Lindt in Switzerland?
Last night, Monday November 14th at 4:00 p.m. sharp, Roger Federer opened the new chocolateria at the beautiful Lindt headquarters in Kilchberg, Switzerland.
Two maitres chocolatiers opened slowly the sliding door of the chocolateria while the famous Lindt music was playing. Suddenly like in fairy tale appeared Maitre Chocolatier Urs Liechti and on each side tennis champion Roger Federer and the CEO of Lindt, Ernst Tanner.
After a warm welcome and congratulations to Roger Federer for his great success in the last few weeks, Ernst Tanner asked Roger to cut the red rubbon with him, using a pair of scissors laying on a red velvet pillow.
And this not even a day after Roger had returned from Paris!
What is the new chocolateria all about?
Ernst Tanner tells media how much chocolate is important in people's lives and how it has become more and more popular. So Lindt wanted to open a chocolateria to bring this love of chocolate alive, to teach little ones and adults the secrets of chocolate and show them how to make some delicious treats.
To let the public know more about it, Lindt is having five open door events on Wednesdays and Saturdays: November 16th, November 19th, November 23d, November 30th and December 21st from 2:00 p.m. to 6:00 p.m. No registration is needed and it is free of cost.
You will be able to learn more about the chocolate courses, which will start in Kilchberg on November 26th. Three more days will be available until the Christmas holidays: December 3rd, December 10th and December 17th. The classes are offered on Saturdays, 3 times a day. You can bring your children. To find more information check out the Lindt website.
Roger was also here to welcome the new addition of the Lindt assortiment, the Bear or Teddy. Ernst Tanner mentionned that despite its short time on the market, it has done very well. The smiling bear, carrying a red heart and necklace, went on sale in October and is replacing the well-know chocolate bunny.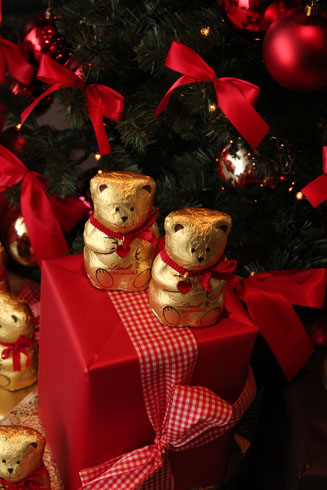 Roger also signed five porcelain bears last night, which will be auctionned on Ricardo.ch. until Saturday. The benefit will go to help the organization, Winterhilfe (Winterhelp), which Roger came to support.
The CEO of Lindt was happy to share that Lindt & Sprüngli will help together with the Roger Federer foundation for the next five years the Swiss charity. A sum of CHF 400,000 will be used to help children in need and poor people. Federer's organization, which mainly helps children in Africa will participate in the bear project because as Roger said "my country is very important".
Does Roger Federer love chocolate?
Of course! when he was a child he used to prefer white chocolate. Nowadays it is milk chocolate. He once said to never go anywhere without Lindor chocolates!
And his twin daughters, do they already eat chocolate?
To that, he told reporters last night "Both of my daughters Myla Rose and Charlene Riva also love chocolate. But they only get very little and maximum once a day. After that if they complain, then there is a kiss instead."
Tagged Auction, Bear, chocolateria, Ernst Tanner, Kilchberg, Lindt, Lindt Teddy, Maitre chocolatier, Ricardo, Roger Federer, Swizerland, Urs Liechti, Winterhilfe