Family Travels: activities in and around Zurich during the Winter
1. Animal park in Goldau (SZ)
In this park, animals will come close to you, even some will eat out of your hands.
Tierpark Goldau, Parkstrasse 40
Call: 041 859 06 06 or check out the website.
Adults pay 18 CHF and children are free until 6 years old.
It is reachable from Zurich with the train in 1h15 minutes.
2. Dolder ice-skating in Zurich (ZH)
This is the largest ice skating rink in Zurich and in Switzerland with an area of 6000 square meter to skate on. Adults pay 8 CHF for the entrance and children enter for free until the age of 4. Rentals cost extra.
It is located near the zoo on Adlisbergstrasse 36.
Check out their website.
3. Dinosaur museum in Aathal-Seegräben (ZH)
Find out everything about dinosaurs at the Sauriermuseum in Aathal on Zürichstrasse 202. There are indoor and outdoor's exhibits.
You can drive or take the S14 train there. Adults pay 17 CHF and children 11 CHF. Good from the age of 5. Under 5 children enter gratis.
4. Glacier of Mount Titlis, Engelberg (OW)
Just above Trubsee, take a lift to Stand and then the revolving gondola to Mt.Titlis. You can enjoy the nice views, go to the ice grotto, ski and have some fun in the snow. There are some husky dogs and a snow park.
Prices: a all day hiking ticket with Halb Tax Abo (43 CHF) or a Ski pass from noon (50 CHF)
5. Jump and run at Trampolino, Dietlikon (ZH)
Children above 2 will have fun in the children's paradise of Trampolino.
Children pay 14 CHF from Age 2 and parents pay 7 CHF. It is beloved by families who come to celebrate their children's birthday.
It is a big place with lots of things to do but also with much noise and many people!
Where is it?: Lerzenstrasse 27 in Dietlikon
6. Kindercity in Volketswil (ZH)
Learn and play at the Migros park inside and outside. There are different studios your child can join. There is a cinema as well. Good for children from 2 to 12 years old.
Where: Kindercity, Chlirietstrasse 12
Prices: Adults 17,50 CHF and kids 14,50 CHF
Find out more on their website:
7. Swimming (ZH & BSL)
There are two great places. One is Hallenbad Fohrbach, Witellikerstrasse 47
The swimming pool is good for children and parents.
There are toboggans, thermal baths, a swimming pool and a jacuzzi. The thermal bath outside is only opened to 12 years old and plus.
Price is 8 CHF for adults and 5 CHF from age 6.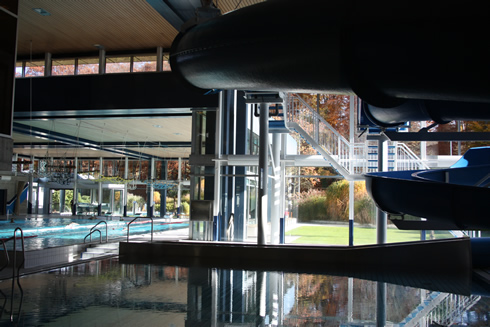 The second option is the Aquabasilea, Hardstrasse 57 in Pratteln near Basel. It is exactly 1 hour from Zurich.
This brand new aquatic complex is perfect for the entire family. It looks like a real beach inside with palm trees, bridges, places to relax. There are many different water toboggans, thermal baths and children's pools. Also have two restaurants, a water bar, a sauna and fitness center.
Price is 30 CHF for 4 hours.
8. Swiss Transport Museum-das Verkerhermuseum in Lucerne (LU)
This is the largest museum in Switzerland and perfect for everyone. You will need at least 4 hours there to see all of the locomotives, airplanes, boats… There is a cinema, but it is best for children of age 6 and more. If you are interested in astronomy, there is a planetarium. There is even a place outside where your children can dress up like construction workers and pretend to be one, playing in dirt, lifting stones and driving trucks and cranes.
Where: located on Lidostrasse 5
Children under the age of 6 go for free, otherwise it is 14 CHF and for adults 28 CHF. Discounts are given to holders of museum cards or Raiffensen EC card.
9. Therms in Bad Ragaz
Visit the Tamina therms in Heidiland. It is a great thing to do in the winter. The entire family will enjoy the warm baths. Click on their
website for more information. The building architecture is unique and the therms were recently renovated. The restaurant offers great reasonable lunches.
Price is 30 CHF for 4 hours during the week and 32 CHF on weekends.
Children under 3 are not allowed. Ages 3-12 pay 19 CHF/21 CHF.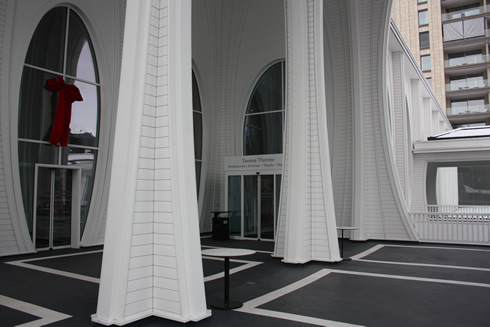 10. Winter sports in Melchsee-Frutt (OW)
There you can walk along the lake, ski or go on the sledging-path. It is beautiful at this time of the year. You can slide all away back to where you take the gondola up. The Melchsee-Frutt-Stöckalp way is 8 km long. A lovely foot walk goes from Melchsee-Frutt to the lake of Tannalp. You can easily pull your child in a sledge. You can rent a sledge or skiing equipment there.
Drive to Kerns and take the gondola from Stöckalp to Melchsee-Frutt.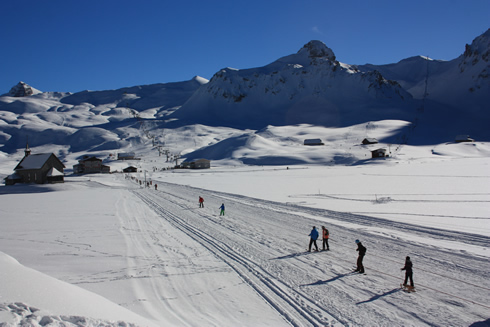 I hope this will give you some ideas of what to do this winter. If you have any suggestions, please feel free to write me.
Tagged activities with children, family travels, Goldau, museums, Swimming, Switzerland, Therms, Trampolino, Zoo Dolder