Are you looking for places to barbecue or have a picknick outdoors? (Switzerland)
If you like the outdoors it is again time for picknicks and barbecuing. Switzerland has many parks, forests and lakes where it is allowed to barbecue. Some places have gas grills, ground grills and designated areas where you can start a fire. It is difficult if you have never been to a place to know what you will find. Most places like in animal parks and beaches along the lake have woods for you to use. Otherwise you can go buy some small logs at your gas station or supermarket in advance.
There are a few rules you should know about making a fire in Switzerland:
Make a fire only in designated areas
It is strictly forbidden to make a fire on the ground anywhere.
Don't leave a fire unattended.
It is better to not start a fire when it is too windy.
When you are done and ready to leave, make sure the fire has stopped.
Do not make a fire if there is a fire ban in the canton you want to barbecue in. Since April 2011, there are bans in Ticino and in parts of Valais and Graubunden.
Call 118 if you start a fire which you can't stop.
If you would like to grill here are a few suggestions from May through October:
Goldau Animal Park (Schwyz):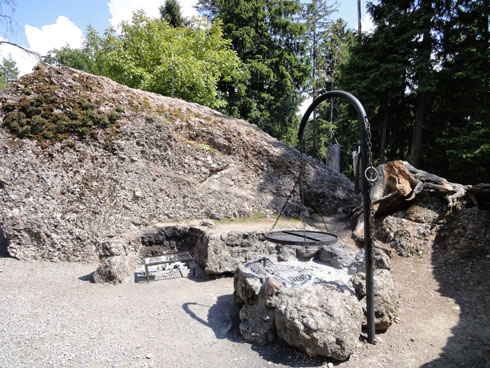 Goldau Animal Park – area Steinbock
The animal park in Goldau is a great place to barbecue. There are 3 areas: Steinbock, Hirchweide and Luchs. The Steinbock has chopped wood ready to use.
Tierpark Goldau: Parkstrasse 40 in Goldau-Arth
Outdoor parking costs 5 CHF for 12 hours.
Trübsee in Engelberg (Obwalden) at a 7240 feet (2207 meter):
What about a barbecue or a picknick with the view  of Mt. Titlis? You will have to take the cable car up. Then, you can barbecue along the lake.
When at the Trübsee stop, walk down to the lake. Either you go left or right for barbecuing. If you go right, after 30 minutes you will find a lovely spot with everything you need to barbecue on an open fire. There is also a closer and larger area on the left side of the lake with many tables.
For a nice picknick, I also recommend sitting when you arrive by the lake where the boats are.
Wallensee (Glarus/St.Gallen):
45 minutes away from Zurich you will find the lake of Walensee.
Park im Weesen and find your way to Quitten. You can walk or take the boat to Quitten. Pass the village you will find a place near the water with a few benches, camp fires. You have to find your logs.
Wägital lake (Swchyz):
The lake of Wägital is calm and has amazing views for picknicking or fishing. Great place for the children near thew water. I have seen people making fire passed the Restaurant AU, but I think they were illegal fires. You can walk or drive from Innerthal.
Greifensee (Zürich):
Where can you make a campfire on the Greifensee? I saw places at Fällenden. It is a busy place as the boat stops there. You can take the boat from Greifen or come back car or walk. There are also many fishermen there. 
Tuerlersee (Zürich):
There are many possibilities for fires on designated areas on the lake of Türler, either on the side of the forest or on the other side on the grassy areas. I suggest you take a right when you arrive, pass the camping and continue.
One nice area has a log where you can sit. You have to walk about 20 minutes if you park near the campground.
You can park for free on the otherside of the campground parking or further away, passed the campground. It gets full quickly. There are always a few logs and branches when you arrive but it is also a good idea to bring some chopped wood.
Zürich Adlisberg:
Adlisberg is a good place to barbecue. You will find a couple places ready to use near the Loorenkopf tower. It is close to the Zurich zoo and Klusplatz.
Langenberg animal park, (Zurich):   
The animal park has one possibility for barbecuing passed the restaurant. You find a couple tables and benches. It fulls up quickly. There are two barbecues grills and a few possible designated places for fire on the ground.
Where: Alte Sihltalstrasse 38 in the Sihlforest.
You can park for 5 CHF for 24 hours.
Zurich-Wollishofen near the Gemeinde Zentrum (Albisstrasse 25):
There, you will find two large gas grills. You will find a playground for the children and you have a beach nearby
Zürich Enge Treff: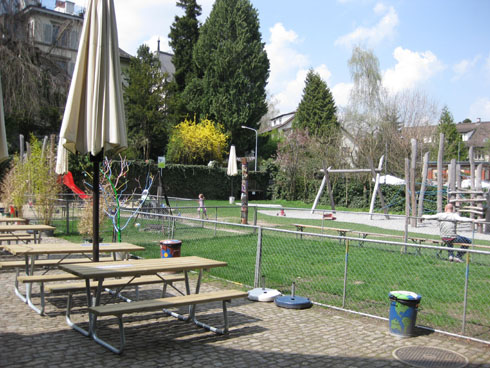 At the Enge-Treff for a barbecue, Zurich
If you don't have a barbecue at homeor just love a barbecued meal during the week with your friends and their kids, why not the Enge meeting center?
Every Thursdays during the summer, someone barbecue for you for a small amount. You need to bring your own meat.
I hope this list will help have a nice barbecue season outside. If you have any ideas, please e-mail me. Thanks.
Tagged Barbecue, Goldau, Greifensee, lakes, Langenberg, Mountains, outdoors, Picknick, Switzerland, Trübsee, Wägital, Walensee